A Chinese company has recently launched smallest touchscreen smartphone, named as the Vphone S8. The previous smallest touchscreen phone was this dual-SIM phone with a 2.45-inch display.
The Vphone S8, a device in size of a matchbox, features a 1.54-inch TFT touchscreen, which is protected with 2.5D curved glass. The housing is covered of an aluminum-magnesium alloy.
The Vphone S8 come at dimensions of 46.7 mm x 37.3 mm x 9.9 mm and weighs only 30 grams. Plus, there are two color options you can choose from – black and silver.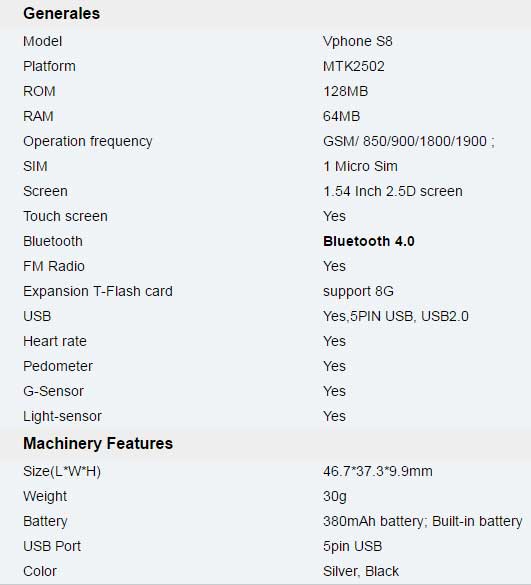 The Vphone S8 comes with an unlock button located on the right side, a mini USB port on the bottom, a TF card slot on the top, and a magnetic connector for charging. There are also a speaker above the screen, and a noise cancellation and a standard microphone on the bottom.
The phone is equipped with a MTK2502 CPU paired with a 64MB RAM and 128MB ROM, but the latter can be expanded up to 8GB via a T-flash card slot. The phone also supports a 380mAh battery.
It only supports 2G at GSM/ 850/900/1800/1900 bands, and has Bluetooth 4.0, and a USB 2.0 port.