"Just 10 more minutes," said the local guide, as we stepped towards our destination. It was becoming darker now, not much moonlight either; we switch on our flashlights.
I don't even know what time it is, but it seems like we have been walking forever. Why didn't I wear a watch? My cell is dead too.
The local guide we hired looks scary under the starlight. His name is Ashraf; he has a squint eye, wearing a leather jacket over shalwar kameez, and rough loafers. He is carrying a lot of things, my bag pack which I had for the first couple of hours, some other shoppers and a small torch light.
We hadn't even stopped for a break. This wasn't a stroll in the park; this was a steep rocky mountain, which had curves and thin passes that we had to cross, just to watch the land of the fairies. But right now that seemed like an eternity away.
But let's rewind a bit and restart my road trip from the land of the brave-hearted, Lahore to the Fairy Meadows.
Off to the Meadows
Our journey began in Lahore at 10 pm on the night of March 4. We started from GT road. First stop was Mian Jee, located between Lala Musa and Kahria, where we had their finest desi ghee Dhal.
We moved on to Abbottabad, about 6 hours drive and another 4 hours to Besham in Kybher Pakhtunkhwa.
At Basham, we had lunch: fried fish with naan. Besham is the last town before the check post of Kohistan. The road towards Chilas, that highway is only accessible from 4am to 4pm each day.
In Chilas or last stop was Raikoot, a small village about 2 hours away from the main city.
---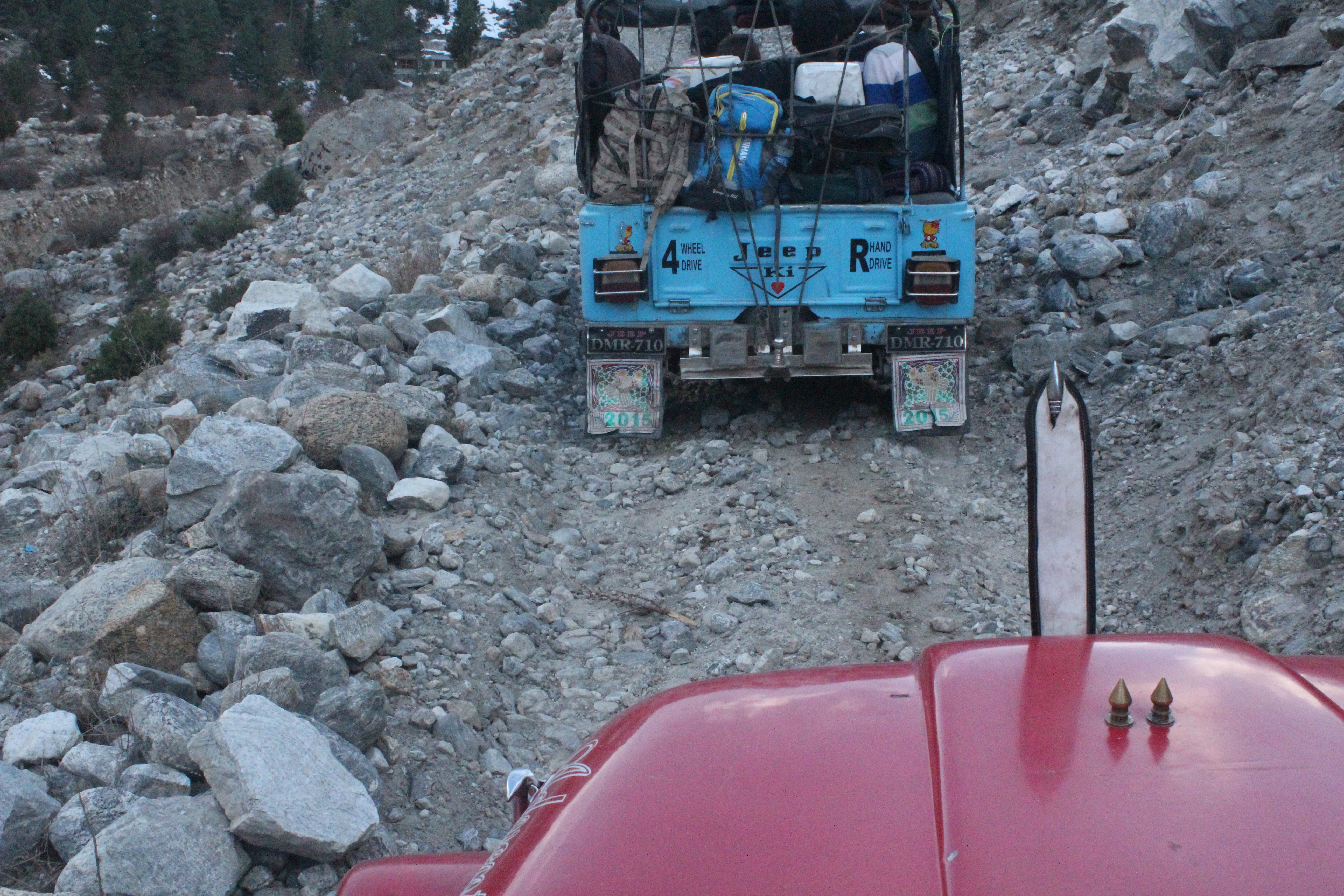 Jeep track towards the fairy meadows track point. Photo: Annam Lodhi
---
At Raikoot, we unloaded our bus on the Raikoot Bridge and sat on jeeps.
These jeeps will take us to the Tato village which is about 16 to 18 km away. The track onwards was dangerous; it is one of the most dangerous commercial jeep tracks in the world, pursued only by these professional self-taught drivers. The road is as wide as the 4×4 jeeps. These jeeps are old, renovated and maintained by the local drivers to make the trip possible for tourists, the uneven track has been constructed by the natives; they also maintain it at their expense.
The 16 km drive is covered in 2 hours. The ride is bumpy, there are no rails or stones at its edges; the road cuts through barren soaring mountains of Gilgit-Baltistan and the Indus River flows beside it, these mountains are fascinating as well as life threatening. There are points where the jeep is in mid-air with only two wheels on the ground. After 2 hours on the gravel road and a couple of head injuries, we reached Tato. Here we hired 4 porters/guides. Each potter can carry up to 10 kg of weight; you can also get ponies here.
Trekking
We started at 5 pm, it wasn't very cold. Even though we would be constantly walking it will become colder at night, the temperature can drop below zero at night.
The trek is an adventure on its own, it is about 7 km long and steep. The locals take about an hour and a half to get to the meadows. For commoners with zero stamina, it will take about 4 to 6 hours. Ashraf told us that a couple once took 12 hours.
We had our backpacks on and the guides had taken our luggage to the huts, they started with us but after a while had taken ahead.
---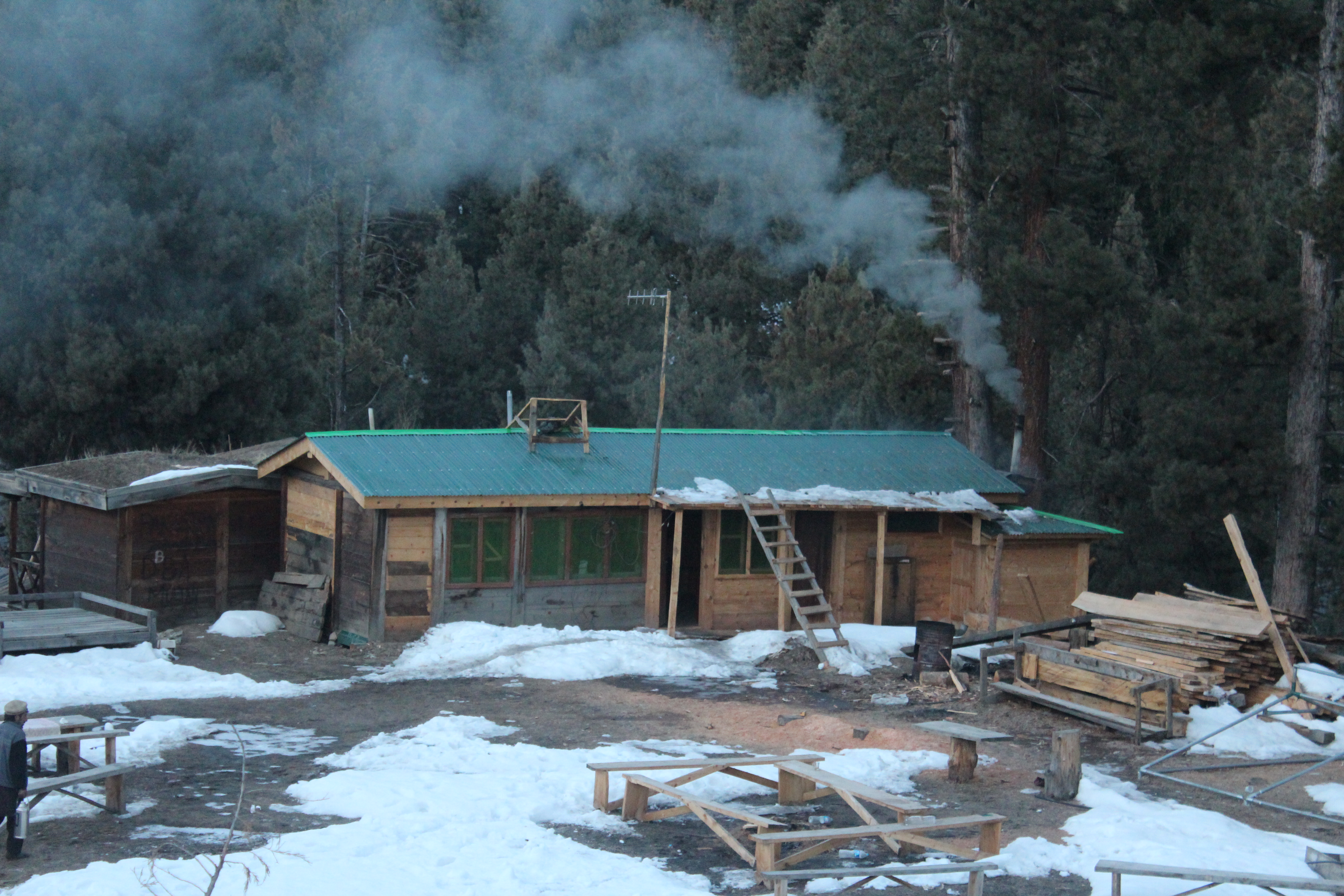 Wooden hut surrounded by a thick alpine forest. Photo: Annam Lodhi

---
When I asked Ashraf how much time would it take us he said, "It takes us 2 hours when it is snowy and an hour when the path is clear. You might take three hours if you do not stop."
So with Ashraf's guidance, we started walking through the thick and thin of the path, through the forest and the snow, we jumped, flew and crossed frozen waterfalls to get there.
And every time I asked how much further he would say, "Madam 5 minutes aur".
You have to take measured steps and keep walking, one can only stop and breathe for a minute or two but can never sit down; because if you sit down the already worked up muscles start cooling and it becomes harder.
We are again in a rural area and it is important to understand the mindset of people here. The men of Gilgit respect women immensely, they also give them equity, which is an amazing find for a brown girl. Through my journey, I conversed with Ashraf who told me stories of his village where women did all the labour as men left for the cities. For our guides, we weren't a cultural shock and my comfort level with them increased through the journey.
---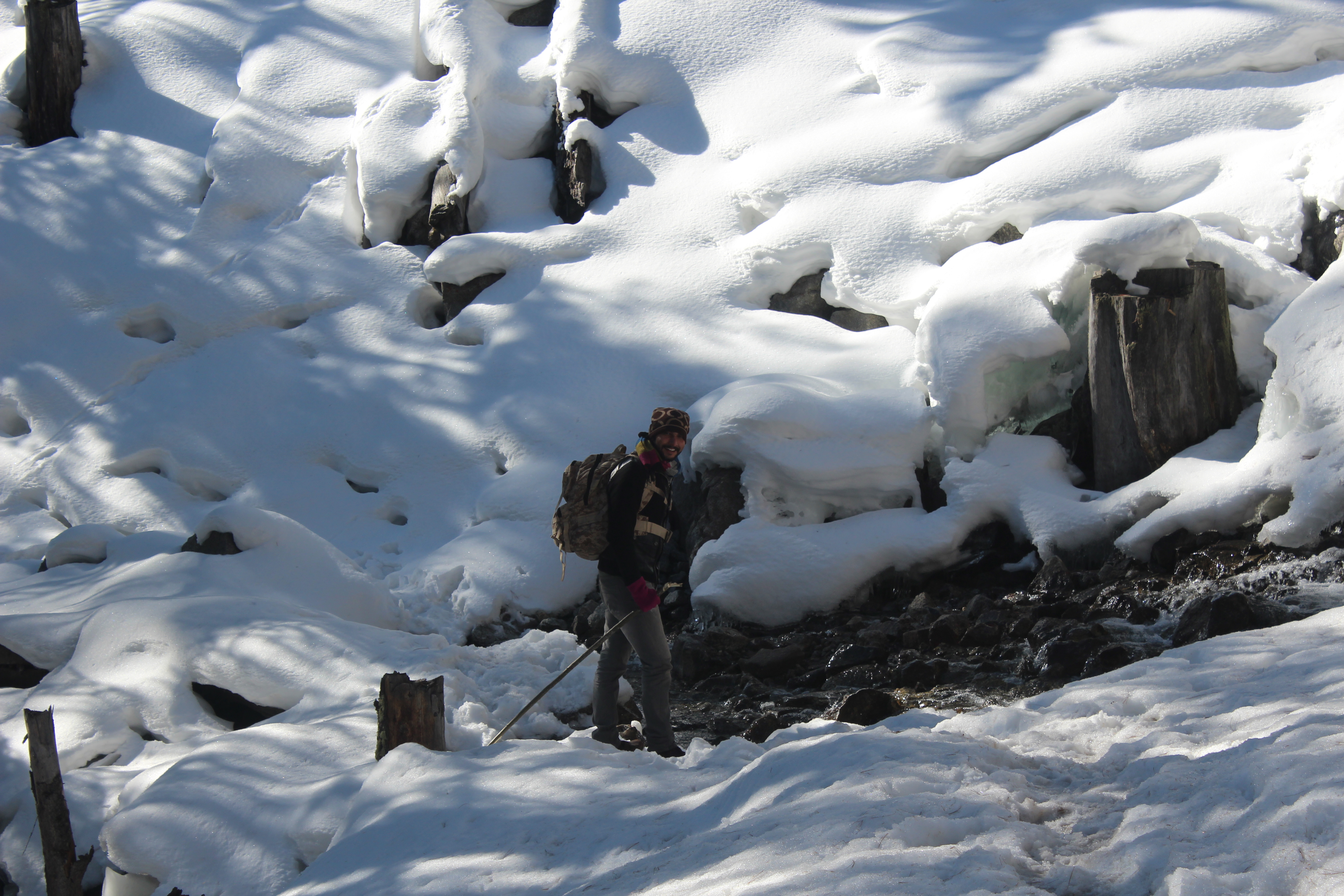 Trekking in thick layers of snow. Photo: Annam Lodhi

---
We hadn't bought trekking sticks so we used branches. The sticks are used to check if the ground is soft, can be broken easily or if the snow has iced completely or not.
Most of the path was clear, but at some narrow pathways, we had to check if the stone was strong enough to hold us. Because it was March, we faced hurdles, around the end of April the path is easier to trek.
We kept taking small, steady and slow steps, even when crossing crucial and narrow paths we didn't haste. Always look for footsteps on the ground, someone might have crossed the path before you and that's how you figure if the path is safe. Take a step, stabilise it then take the next.
The iced paths were harder; our guides helped us through them. It is vital to listen to what they say, place your foot exactly where he says and don t be scared of him, this practice is life-saving.
At a point, I had to cross an icy wood plank, under which water from a melted glacier was flowing. The iced plank was straight beside which was a fallen tree. My guide asked me to cross through the tree which I thought was foolish; I tried crossing through the plank and fell in the water wetting myself. My journey onwards harder; my feet were numb due to the icy water and the cold weather.
---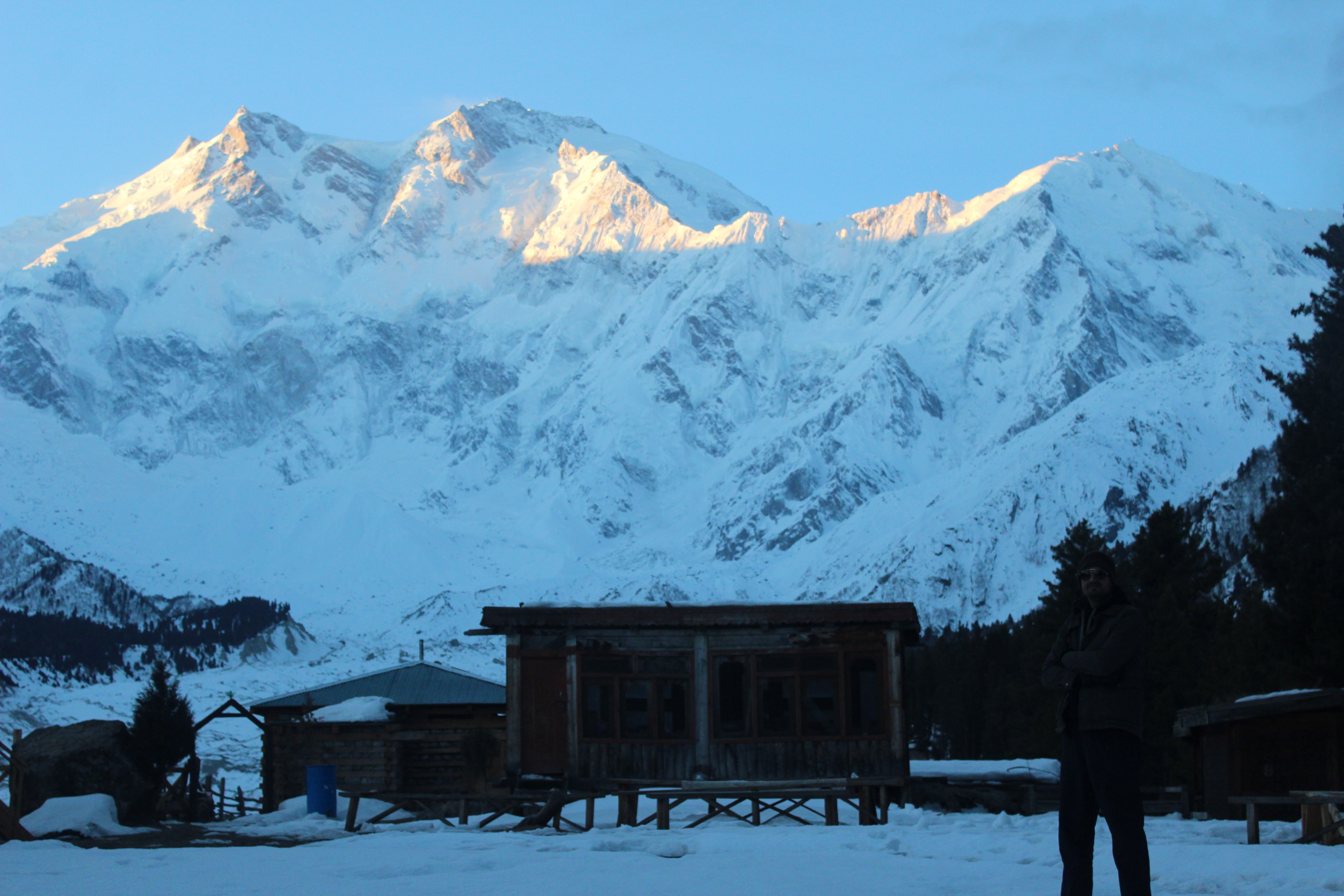 Surrounded by mountains covered in snow. Photo: Annam Lodhi

---
Another moment was when we had to cross a glacier, which was iced. When in the snow, always walk on the soft snow and if you have to walk on the iced portion look for footprints. I asked him to hold my hand firmly or else I would fall. I would suggest if you want to see the majestic mountains give the man your hand and hold it tightly.
At the 5th hour, I was on the verge of crying; I had fallen three times, was drenched knee below and felt very cold.
When I saw the light of the hut, I was still a good 15 minutes away, I couldn't believe my eyes. The air was icy; the stars bright, the moon right above us and the mountains, just a shadow.
We rushed into our hut which was as warm as my mother's hug, they had fired the furnace for us and the beds were ready.
As soon as we were settled, they served us soup and tea inside our hut. There was enough wood in the furnace for the night and we slept like a baby.
Waking up facing the Killer Mountain of the North ignites a sense of accomplishment, a dream which you haven't dreamt materialises. I do not feel as cold as I had imaged, the snow is white, so white I can't believe my eyes; as I stood there mesmerised by the beauty a brush of cold breeze shocks me giving me instant goose-bumps, I looked at my hands, my nails had turned blue. I rushed into the hut to wear a pair of gloves, beanie, and coat. Was it the cold or the realisation that I have witnessed that majestic killer mountain, called Nanga Parbat?
---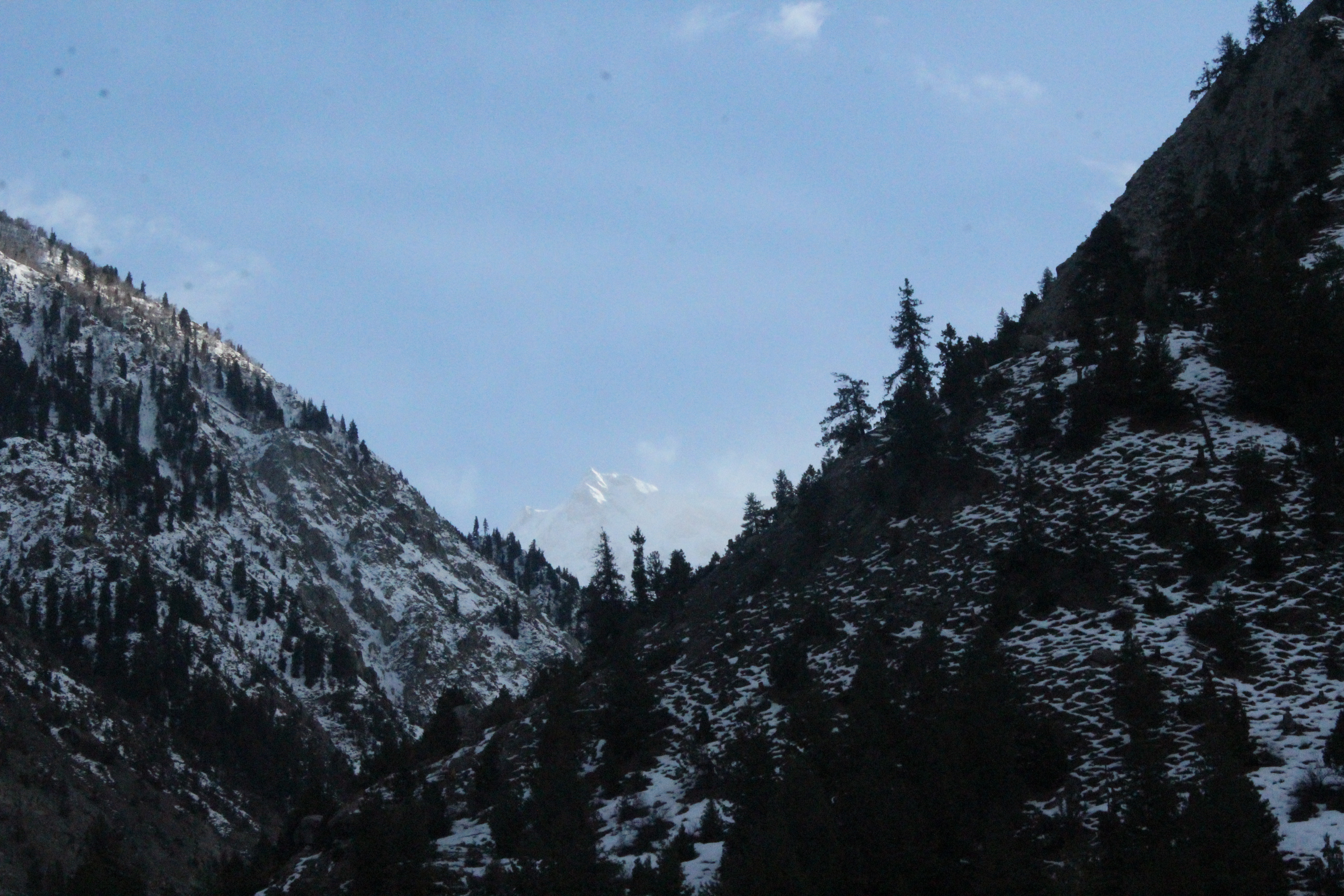 A breathtaking view of the mountains. Photo: Annam Lodhi

---
There aren't enough adjectives to describe its beauty. The Parbat is frightening, it stands tall and firm; its peaks are covered in the whitest of snow, with clean hues of blues, silver and some purple. The sun touched its topmost peaks making it shine like gold. The ninth highest mountain in the world showed no signs of humanity, it was above it.
The meadows, called Joot by the locals, are a blanket of lush green in summers, but in March it s mostly covered in snow, some mud puddles and paths of grass. It is basically a small patch of even ground surrounded by towering trees. This is the first base camp towards Nanga Parbat. The area was noiseless; our laughter echoed through the forest and mountains.
The washrooms are a mess because of the low temperatures everything freezes; the guides melted ice on the stove every time we wanted to use the washroom.
---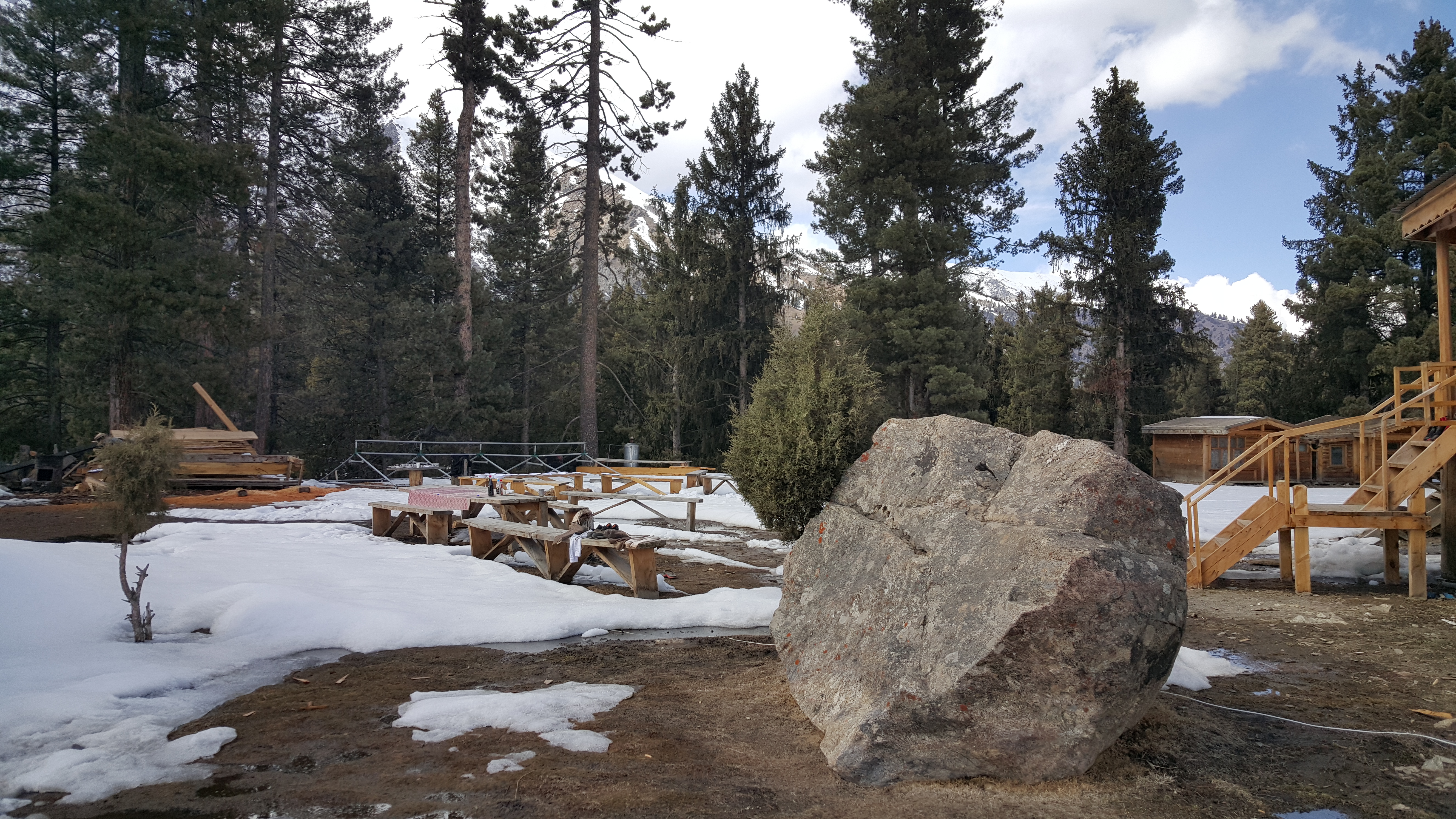 The meadows during the day. Photo: Annam Lodhi

---
At 26,000 ft everything is done using wood, there is also zilch contact with the outside world.
It is easier for the men who can relieve themselves anywhere. Girls can do that too but well, it's scary. So I always travel will my sanitary items, which include napkins, wet wipes, sanitizers, tissues, antiseptic creams, cranberry juice and antiseptic spray. But with the nature that surrounds you, the washroom will be the last of your issues.
As the sun turned the path muddy, we had to adhere to the meadows and couldn't stroll around much.
---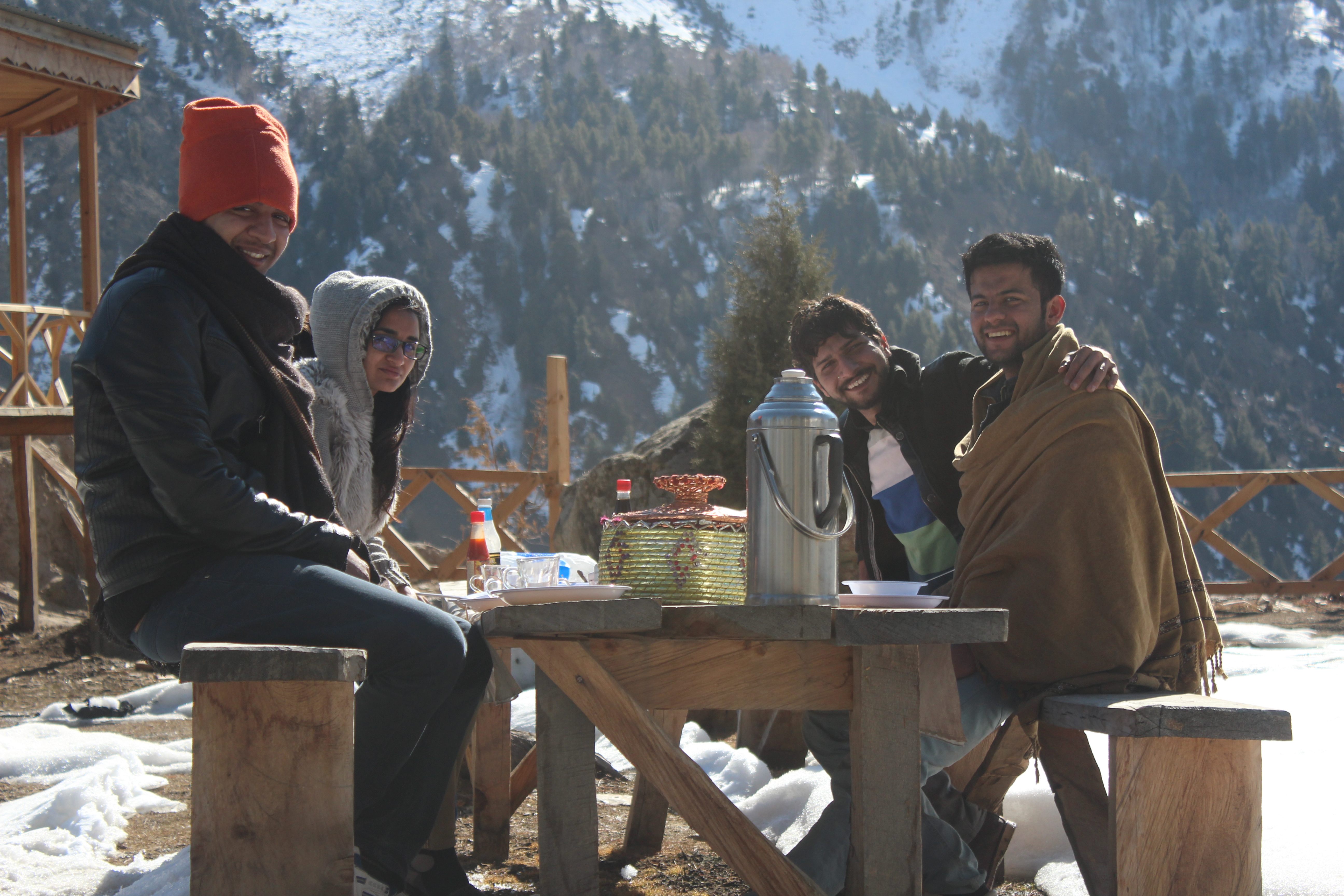 Having a warm, freshly prepared breakfast by our local guides. Photo: Annam Lodhi

---
After two nights, on the morning of the second day, we headed back down. It was one of the hardest goodbyes, the beautiful Parbat gleamed; the most beautiful things are the ones untouched I thought.
The journey back was easier, we were somewhat familiar with what was to come, still, some sheer drops of the cliff made us gasp. The snow had reached our knees; we had to stride through it but stopped to snow fight for a while. We reached back in about 3 hours.
As we sat in our jeeps and headed back, I pondered that the most beautiful memories in life are the one that you worked the hardest for. I believe inaccessibility is what makes things desirable and I hope people who do visit keep in mind that it s part of their country and heritage; it is up to them keep it clean and raw for the generations to come.
---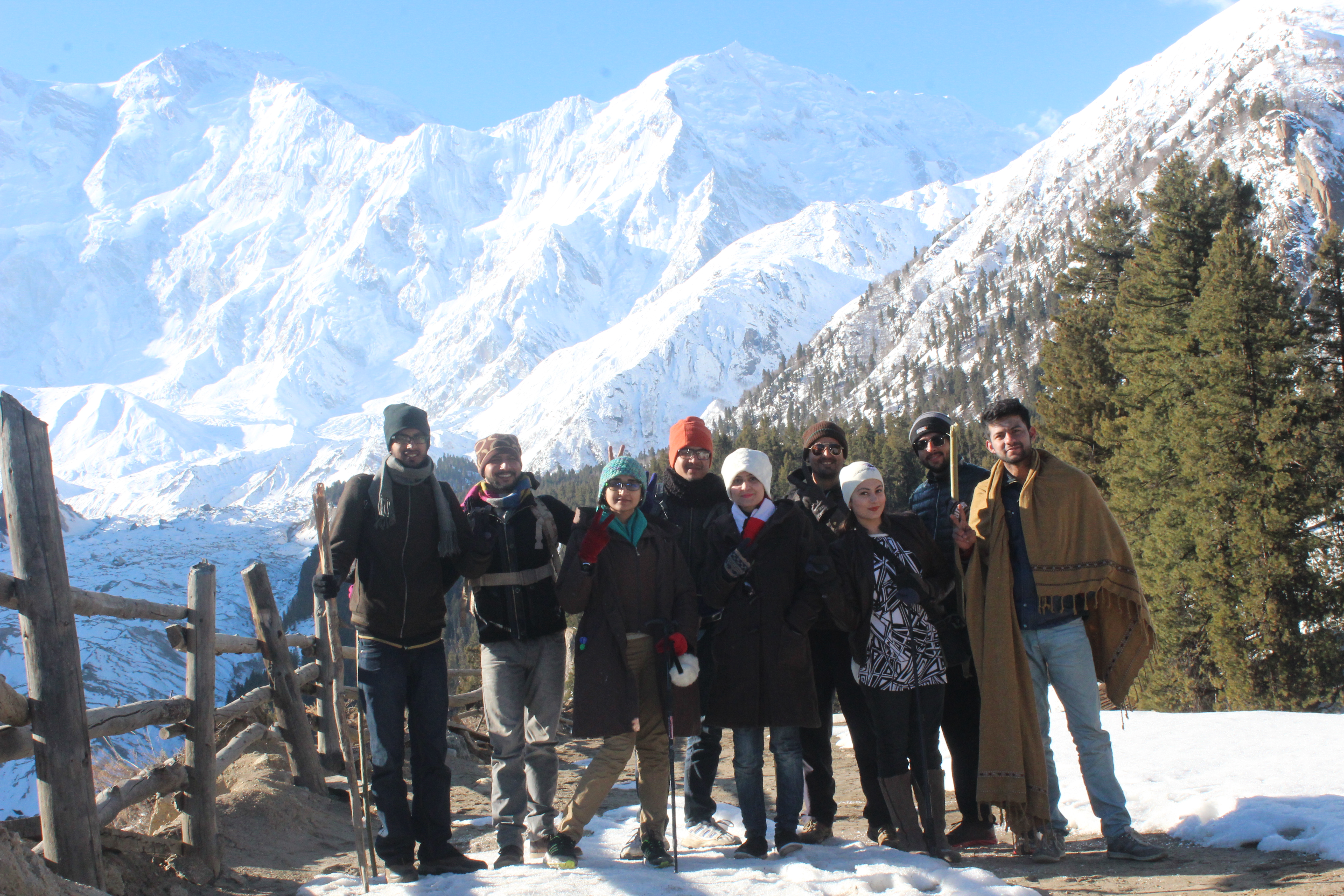 The entire group. Photo: Annam Lodhi

---
Local Guide: Ashraf and his team
Lahore guide: Akmal Khan (akmalkhan323@gmail.com)
Must Haves
Spiked shoes
Thick clothes/ Winter Wear (Gloves / caps/ socks)
Hiking sticks
Tissues / sanitary pads/ sanitizer / wet wipes
Sun screen / lotions/ oils
Travel shampoos/ dry shampoo/
While hiking
Red Bull
Water
Energy bars
Chocolate
Dos and Donts
Do visit the meadows before you die
Don't sit while hiking take small breaks of about 2 minutes but do not sit
Don't drink a lot of water while hiking, just take small sips enough to wet the mouth
Do exercise a week or so before you leave for fairy meadows
Do trust your guide and listen to what he says
Do talk to the guide, ask questions and enjoy the surroundings
For the girls
Try not to take the trek too easy but also, don't be scared of its severity
You might get your periods early due to the extreme travel so be ready
The washrooms aren't that great as the water is frozen so take along as much washroom supplies as possible
Try and keep yourself warm, drink coffee, soups, and tea