As Ramazan is a holy month in which Muslims fast from dawn to dusk, there exists special enthusiasm for the two most crucial meals of the day – Suhoor and Iftar.
In Suhoor, lots of fluids and high energy meals are preferably taken but Iftar is the meal delegated to tempting delicacies of sorts.
We present to you a list of top Iftar meals from around the world, which are also the specialties from the said places.
1) Kunefe and Börek from Turkey
The country, which is considered a bridge between the west and east, has several delicacies to speak of but here we will mention the most preferred ones. Kunefe, also called kunafeh or kunafah is a Middle Eastern specialty having lots of cheese in a pastry soaked in sweet, sugar-based syrup. The dish is often served with nut toppings.
Another dish is Börek which is a kind of a pastry having cream, cheese, spinach, and meat. There is another variant in the shape of rolls or cigarettes, having ample quantity of stuffing.
The dish is often sprinkled with parsley.
2) Harees from UAE
The Middle Eastern variant of local delicacy from the subcontinent 'Haleem', is slow-cooked lentil dish having either chicken or meat. The dish is a slow-cooked porridge of a kind which is light on tummy and full in nutrition.
3) Koofteh from Iran
Meatballs are a universal dish, but the Irani version can have a spicy gravy or serve the meatballs dry as kebabs.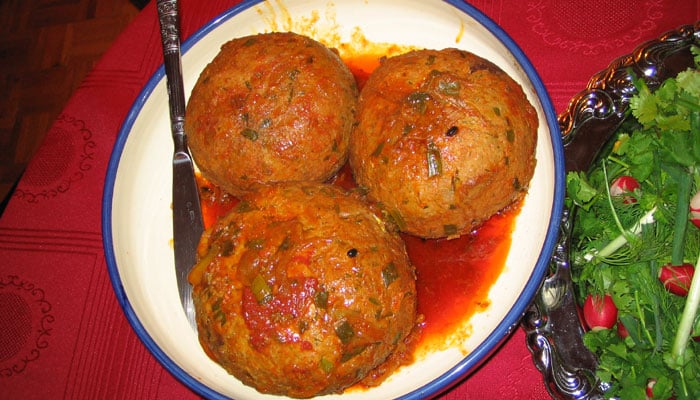 4) Adas from Palestine
Adas is known to be a lentil soup, even if Ramazan comes in summers, the soup becomes a staple. The lentil soup is healthy and rich in nutrition.
5) Curry prawns from Indonesia/Malaysia
This seafood delicacy also contains pineapple and served generally with rice. Light and hearty at the same time, it is a favourite for Ramazan table.
6) Haleem from Pakistan
We all are well-acquainted with the meat and lentil dish, which is also one of the finest dishes of Pakistani cuisine. During Ramazan, this dish on an iftar table can be a cause of sheer delight.
7) Dahi Baray and vegetable samosa from India
In the subcontinent, it is not possible to break the fast without 'pakoras and samosas'. Dahi Baray is made of yogurt and lentil-based batter fried into small balls (pakoras). The dish is seasoned with chutneys and masala.
Another hit dish is vegetable samosas. These triangle-shaped edibles are stuffed with vegetables, usually potatoes, and a must-have at Iftar.
8) Stuffed grape leaves rolls from Egypt
In Egypt, the well-known dish is made from grape leaves and takes some time to make. The leaves are rolled with stuffing inside having meat, rice, falafel, and then sprinkled with olive oil. The dish is very light and scrumptious.
9) Chakchouka from Algeria
This dish, pronounced as Shashouka, is from Algeria. Chakchouka's origin can be traced back to the Ottoman Empire, but now it has multiple variants. The dish is a thick tomato gravy topped with poached eggs. Primarily known as a breakfast staple, this dish is light and packed with energy.
10) Jollof Rice and Chicken from Nigeria
This jerk chicken is made with rice, peas, tomatoes, and spices. It is a famous dish from Nigeria and after a long fast is a feast not to miss.
Now that you have read about the famous iftar dishes around the world, search up them further and think of ways to incorporate them into your iftar meals, happy fasting!