32 bullets pumped into car carrying 5 Kashmiri youth in Budgam firing
In an unusual move, the Indian Army admitted that the killing of two Kashmiri youth in Budgam on November 3 was a mistake. Excessive firing by the army led to the killing of two Kashmiri youth and injuring two others, HT has learnt.
"The Maruti car carrying five youth was embedded with 32 bullets including 12 in the bodies of the dead and the injured,'' a senior army official familiar with the investigation told HT.
"We take responsibility for the death of the two boys in Kashmir. We admit that a mistake was made," Northern army commander Lt Gen DS Hooda told the media in Srinagar.
While announcing a compensation of Rs. 10 lakh each for the deceased, Hooda said, ""There was some information about a white car with terrorists. Obviously, the identity was mistaken in this case."
In an unusual step – and a departure from the past – the Northern Commander, based out of Udhampur in the Jammu subdivision, flew specially to Srinagar to address the media.
The quick admission, five days after the shooting on November 3, was aimed at calming tempers. The Valley and Budgam in particular have witnessed daily protests, with locals coming out on the streets raising slogans. The administration was forced to impose partial curfew.
The admission came after the initial inquiry – details of which have been accessed by HT – revealed that the army personnel were in violation of several standing operating procedures (SOPs).
An army officer familiar with the inquiry said that the soldiers belonging to 53 Rashtriya Rifles should not have opened up with automatic rifles. As per the SOPs, they are supposed to fire only when fired upon or are in an 'ambush' kind of situation when they have to fire to save their own lives. In this case, there was no threat to them from the five youth travelling in the Maruti car.
As per the procedure, the army unit is supposed to take a local police officer with them and the inquiry has found that that too was not done.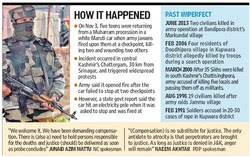 Hooda, the senior most army officer in charge of North India, was prodded by the Centre to go to the 'epicentre' to admit to the mistake. Chief minister Omar Abdullah, who tweeted about the killings 'vitiating the election atmosphere', had also taken it up with defence minister Arun Jaitley.Jaitley had also promised a fair inquiry and had posted a tweet on the night of November 3, saying, "The Budgam incident in the Kashmir Valley is highly regrettable. A fair enquiry will be held and action taken against those found guilty."
While promising to complete the inquiry within ten days, Lt Gen Hooda also said, "We will ensure such incidents never happen again."
Comments
comments