AMRITSAR – Sikh community on Tuesday has protested in reiteration of support to freedom movement of Kashmir and criticism against Indian aggression at the Line of Control.
---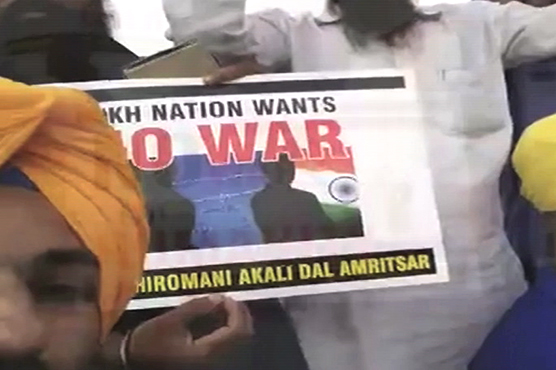 "Sikh nation wants no war," says a placard at the protest
---
After leading a protest against Indian government and the army in Amritsar, the proponents of 'Khalistan' stressed the separation of Punjab terming it pertinent for peace in South Asia. Terms between Pakistan and India would better once demands of Sikhs were met, the protesters claimed.
Handing a blow to Indian government, violence in held-Kashmir and aggression at the Line of Control, the community has announced to detach itself with decisions taken by Indian government that harmed the region and neighbouring countries.
Separately, Sikhs who were relocated to camps from residential localities nearing border by Indian forces have complained of inadequate facilities at the camps and raised voice against Indian army and the government.
This is not the first time Indian Sikhs have protested against Indian government. Sikhs have been demanding separation from India for a long time and also have urged Pakistan several times in the past to help them achieve their goal in return to aiding separation of Kashmir.
In the latest episode, Sikhs have complained that Indian troops forcefully shifted them to camps that do not offer necessary facilities.
Earlier this month, prominent Sikh leader, Amarjit Singh asked Pakistan for diplomatic assistance against India.
In his statement, the Sikh leader stated that Indian allegations against Pakistan over Uri attack were totally baseless and that India had made it a habit to kill innocent civilians.
Adding to pressure on Narendra Modi-government, Sikh community in the United States observed a black day on August 15, independence day of India.