(Web Desk) – A librarian at elementary school of Massachusetts denied accepting a collection of books donated by the First Lady.
According to Independent, collections of 10 Dr. Seuss books were sent earlier this month to a school in each state by the First Lady Melania Trump with the intention to celebrate "National Read a Book Day".
The stance of White House was that it worked "with the Department of Education to identify schools with programs that have achieved high standards of excellence."
Liz Phipps Soeiro, the Cambridge port Elementary School librarian said in her blog post that her school did not require these donated books, which are labeled with the famous titles as The Cat in the Hat.
"I work in a district that has plenty of resources, which contributes directly to 'excellence,'" Soeiro wrote.
"My students have access to a school library with over nine thousand volumes and a librarian with a graduate degree in library science" she added.
---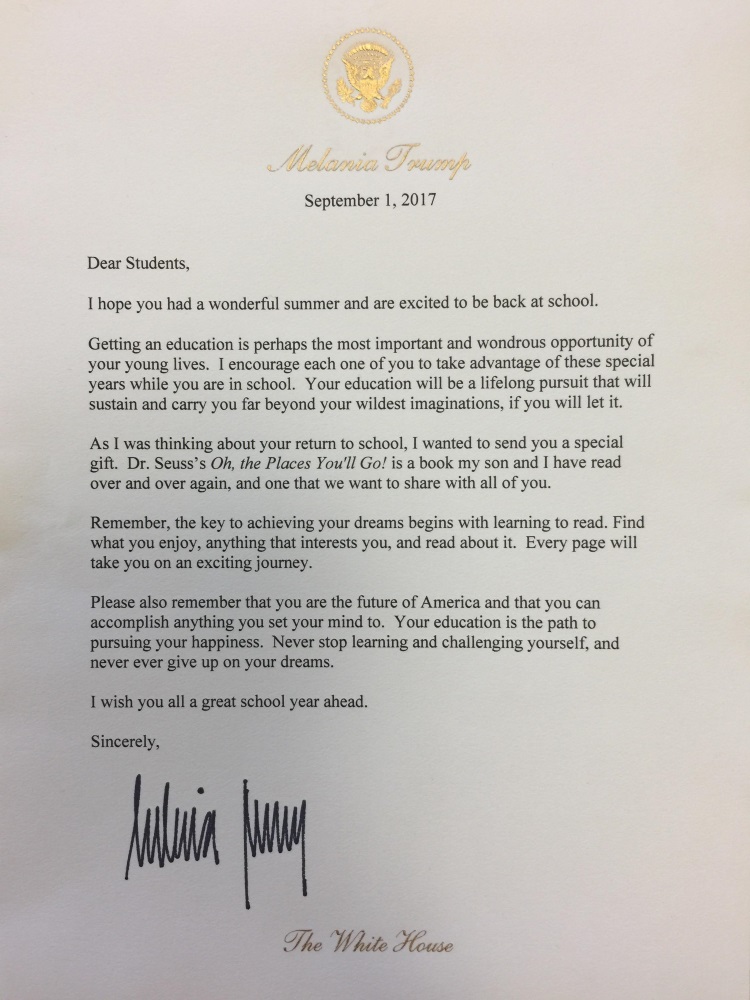 Melania Trump's letter that accompanied the books. Photo: Liz Soeiro
---
Soeiro wrote that in place of donating books to her school, the White House must consider the lower funded schools, and take steps to support them.
"Why not go out of your way to gift books to underfunded and underprivileged communities that continue to be marginalised and maligned by policies put in place by Secretary of Education Betsy DeVos?" she asked.
The Elementary School is located at Cambridge, which is close enough to the Capital city Boston. Moreover, world's top ranked and most popular universities the Massachusetts Institute of Technology and Harvard are sited in this zone.
Cambridge Public schools said in a statement that Soeiro "was not authorised to accept or reject donated books on behalf of the school or school district," CBS Boston reported.