This exhibition explores political ideas of citizenship in Pakistan, and celebrates Pakistan's indomitable spirit in pursuing its democratic processes of governance despite military interregnums over the last 70 years.
In taking a long-term view of the emergence of a political citizenry, the exhibition places the Constitution of Pakistan at the heart of this framework.
It starts with the emphasis on Pakistan's Constitution and then goes on discover various key events in Pakistan's life as well as its founder, Quaid-i-Azam Muhammad Ali Jinnah.
Through several unique, rare documents and objects, the exhibition brings out some aspects of Pakistan's life which have never been seen before.
Dr Nilanjan Sarkar, Deputy Director of South Asian Centre, told Geo News that democracy has been a long process in Pakistan through the establishment of constitution despite the challenges posed at different periods of history through military rule.
"This exhibition makes the case that in the end perseverance of democracy always wins and we can see that slowly Pakistan is becoming a stable democracy in the world and a rising power in the region," he said.
He said that exhibition showcases rare photographs of Quaid-e-Azam and documents from the archives of Lincoln's Inn, including hand-written letters where Mohammad Ali Jinnah requests that his name be formally changed from 'Mahomedalli Jinnahbhai' to 'M A Jinnah' while he was studying law in the late 19th century in London.
The exhibition also has reproductions from the archives of Dawn including the two editions of the newspaper on 15 August 1947; photographs of the Quaid-e Azam and Allama Iqbal from the archives of the museum of the Supreme Court of Pakistan and the High Commission of Pakistan in London; rare postage stamps issued by the government of Pakistan to mark the official launch of the Constitution in 1956 and 1973; and special items loaned from the personal collection of Justice Tassaduq Jillani including a special 'Song for Justice' written by him to mark the 50th anniversary of the Supreme Court of Pakistan, and his personal robe and ceremonial boots.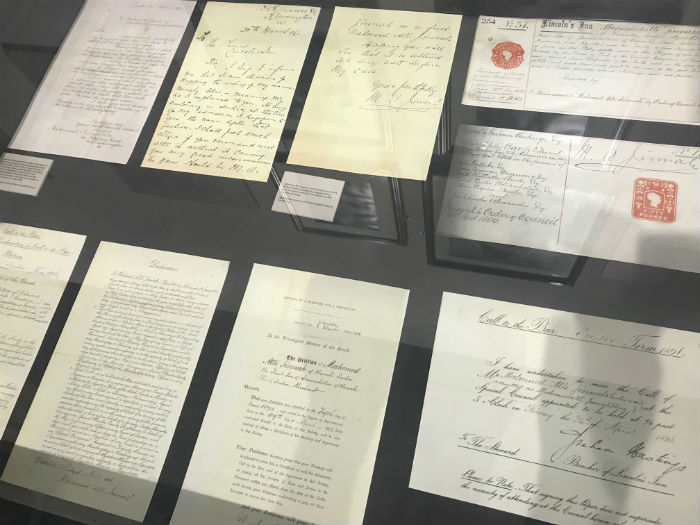 President of the LSESU Pakistan Development Society Omar Bhatti said that Pakistani as well as international student liked the exhibition and learnt many new things about Pakistan.
"By putting the written Constitution at the centre of this exhibition, it celebrates the indomitable spirit of the people of Pakistan to take charge of their political destiny, in this 70th anniversary of their independence. The objects displayed are a rare treat for Pakistanis and others to see documents not seen in public either in the UK or in Pakistan," he commented.
Comments
comments