The US may stop aid payments to Palestinians who are "no longer willing to talk peace", President Trump said.
On Twitter, Mr Trump said the United States received "no appreciation or respect" in return for its aid.
He also said his controversial recognition of the contested city of Jerusalem as Israel's capital took the hugely divisive issue "off the table" for new peace talks.
Palestinians had said the move showed the US could not be a neutral broker.
Soon after Washington's decision was announced in December, Palestinian President Mahmoud Abbas said he would not accept any US peace plan for the Middle East.
The decision on Jerusalem was also overwhelmingly condemned at the United Nations, where 128 countries voted against Mr Trump's fulfilment of a campaign promise.
The US president was following up earlier comments about aid payments to Pakistan, in which he said the US had received only "lies and deceit" in exchange for billions of dollars in aid.
What kind of aid does the US send to Palestinians?
Mr Trump's tweets followed remarks from Nikki Haley, the US envoy to the United Nations, in which she said the US would stop contributing to the UN's relief agency for Palestinian refugees.
The agency runs education, health, and social programmes. The United States is its largest governmental donor, handing over almost $370m (£270m) in 2016.
Speaking at a news conference, Ms Haley said: "The president has basically said that he doesn't want to give any additional funding, or stop funding, until the Palestinians are agreeing to come back to the negotiation table."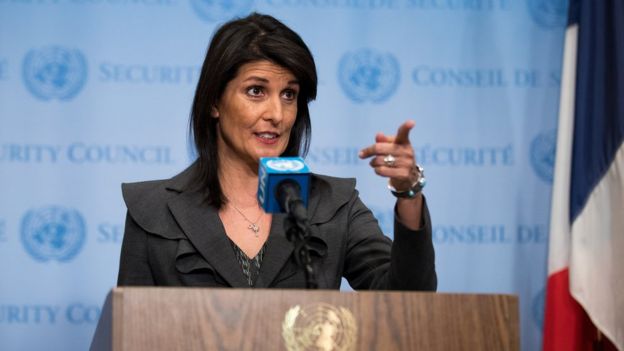 She said the UN's vote to condemn Mr Trump's Jerusalem decision was "not helpful to the situation".
"The Palestinians now have to show their will that they want to come to the table. As of now, they're not coming to the table but they asked for aid.
"We're not giving the aid, we're going to make sure that they come to the table," she said.