A Pakistani mountaineer, Uzma Yusuf, has become the first ever female alpinist to climb the 7027m high Spantik Peak of Gilgit Baltistan located in the north of the country, and has dedicated her achievement to the women of Pakistan.
Mounting the Spantik was not possible since 2013 due to the worst weather conditions in the area, but Uzma accomplished the deadly trek by managing to reach the top on August 2 of 2017.
According to Uzma, every Pakistani woman is strong enough to accomplish world's toughest challenges, reported BBC Urdu.
Qarar Haideri, a spokesman from 'Alpine Club' – a Pakistani mountaineering organisation, told BBC that accomplishing a peak as high as 7000 meters is a great achievement for a woman.
"Uzma Yusuf accomplishing this task while being a housewife without any professional background has set an example for the women of Pakistan", he said.
The 'Alpine Club of Pakistan' is organising a huge event to honour Uzma Yusuf's achievement, he added.
---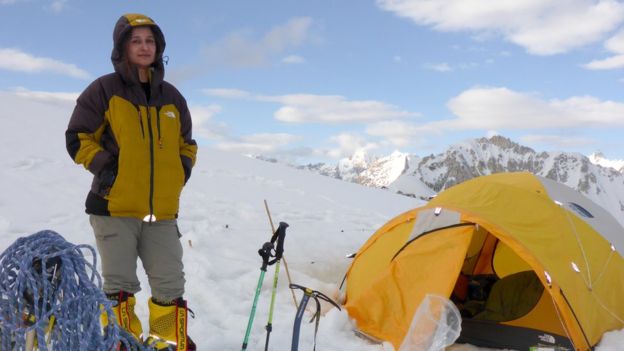 Uzma during her 31 day long expedition to Spantik Peak. Photo: BBC
---
Uzma told BBC Urdu that the biggest hurdle she had to cross as a woman during her expedition was that of her weakened muscles resulting in leg and foot cramps, but she kept telling herself that she was representing the women of Pakistan and so crossed all hurdles with confidence.
Talking about the difficulties she had to face, she further told that there are no restrooms on the mountains and it was a greater problem for her as a woman.
She along with the men in the mountaineering group faced all these difficulties with valor throughout her 31 day long expedition.
She also said that man is a 'social animal'. The deficiency of oxygen, water, and, food on high peaks result in mental disturbance but she driven by motivation didn't let any of it take over her.
Uzma prior to this achievement has climbed to the top of Manglang and Rush Peak in the Karakoram mountain range while conquering temperatures as cold as -28 degrees Celsius.
She further told that people from her village tried to pull her back and make her change the decision when she told them about the expedition but nothing could stop her. The achievement has made her more confident and her next aim is to climb an 8000m peak.
"A mountaineer is neither a man, nor a woman, but a climber."
She added that the the wind pressure is usually very high on mountains and one should not only be physically strong, but mentally too. The freezing temperatures make your body numb.
---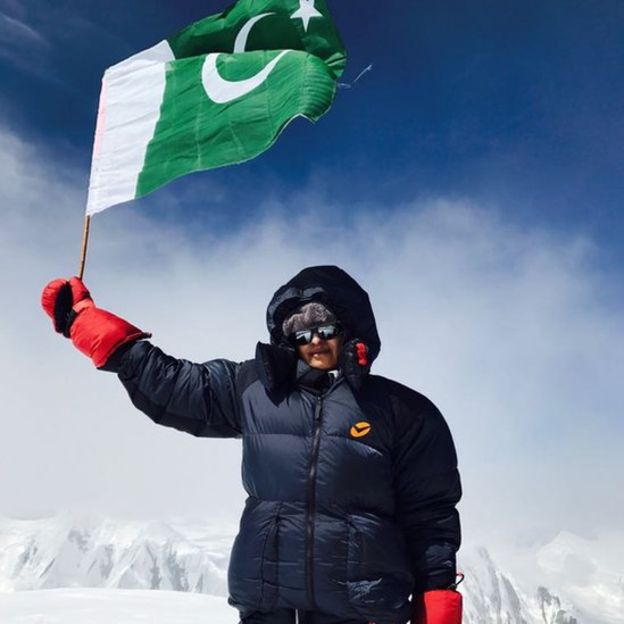 Uzma Yusuf waving Pakistan s Flag at the top of Spantik Peak. Photo: BBC
---
Uzma spent two hours on the Spantik.
"Climbing down was very difficult. The visibility had dropped to zero because of the snowstorm and the GPS had no signals. Many camps have been buried in snow earlier, and the ice was melting so it was very difficult to find the right way out. At times our bodies got completely covered in snow."
According to Uzma, two foreign teams from Czech Republic and Japan were there too, but due to the severe weather conditions couldn't make it to the top, and returned to their countries instead.
Spantik was last climbed by a Pakistani and a Chinese mountaineer in 2012.