HANGZHOU: Pakistan has signed a Memorandum of Understanding (MoU) with China's e-commerce giant Alibaba Group on Tuesday. Federal Minister for Commerce Khurram Dastagir inked the MoU from Pakistan's side, while Prime Minister Nawaz Sharif was a witness to the ceremony.
Prior to the signing, Prime Minister Nawaz Sharif visited the Alibaba headquarters and in an address, stressed that Pakistan possesses immense potential for investors.
The Prime Minister, during his visit, said that Pakistan is a growing economy and the government is taking all efforts for the prosperity of the people, adding that since 2013 Pakistan's economic conditions have improved.
"Our purpose is to empower people and strengthen the economy of Pakistan," he remarked.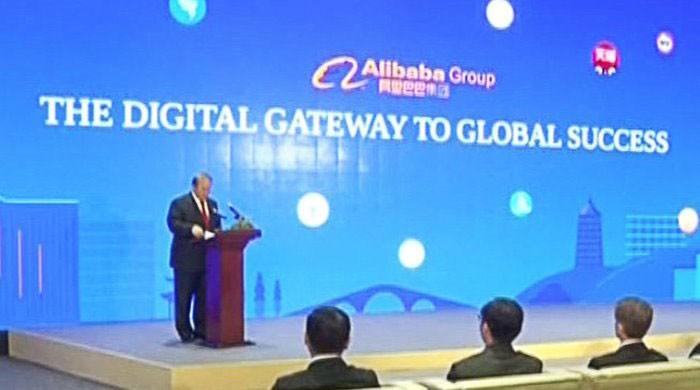 During his visit to Alibaba HQ, PM Nawaz said Pakistan has immense potential for investors – screen grab
Speaking about Alibaba, he praised the company's growing e-commerce business and said that e-commerce ends information gaps and saves time.
Upon arrival at the company headquarters, the PM was received by Alibaba Executive Chairman Jack Ma, who founded the Alibaba Group in 1999. The PM was also given a detailed presentation on the company's performance, achievements and future targets.
He was briefed that besides online trade, Alibaba has also spread its network to rural economy, microfinancing, marketing, public welfare, life sciences and traffic control with 33,000 stations operating across the globe.
Jack Ma said that that the company has a consumer base of around two billion, besides providing jobs to 100 million people.
The executive also informed the PM that Alibaba's micro financing business has a recovery ratio of around 99 percent. He claimed that the company delivers 60 million packages across China every day and has a record of delivering products to the toughest locations around the world, including Mount Everest.
The PM also visited the Alibaba Museum wherein he was given an overview of the company's history and profile.