In a first-of-its-kind occurrence, Pakistani rock climber Mushahid Shah aspires to represent his home country in a unique and adventurous expedition in the Arctic wilderness – a dream that can become distant if he fails to meet the required number of votes within the deadline of Dec 14.
Shah is a national-level rock climber, who is fighting tooth and nail to represent Pakistan in the Asia region in the Fjällräven Polar 2018.
Shah is currently at the second spot with 35,180 votes and beckons more support from fellow Pakistanis in his struggle.
Leading in the votes tally is an Indian, Niyog, leading with 40,253 votes.
The competition requires individuals, who are sturdy enough to brace the extreme cold weather, to cover a 300km path with the aid of skilled sled-dogs.
Although hailing from Jhang, Shah currently resides in Rawalpindi, where his adventurous streak and passion for exploring nature keeps him occupied.
Shah spoke to Geo News and expressed his steely determination to represent his homeland in the blood-curdling cold of the Arctic wilderness.
Shah is determined to bridge the gap and clinch representation for his homeland.
He said that the competition promiscuously lacked representation from Pakistan and he wants the name of his country featured among others in the competition.
The 26-year-old ventured into the field of rock climbing in 2013. His climbing expeditions include Nanga Parbat base camp, Sarwali peak (AJK), Miranjani, and Mukshpuri during the winter season.
The competition is not for the faint-hearted as it requires individuals with perseverance and stamina.
The applications for the week-long event in April are open and voting process will continue until Dec 14.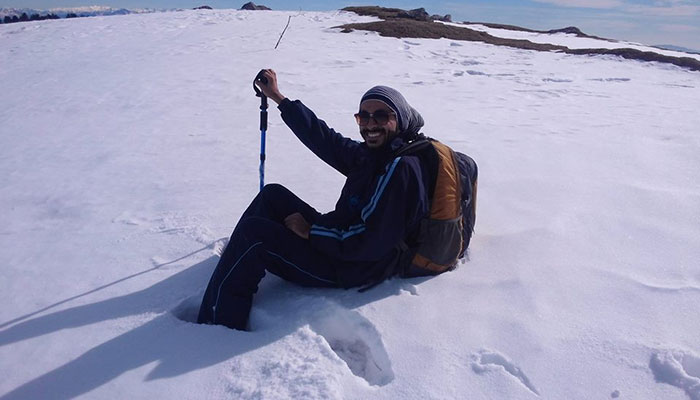 The selected participants will receive training and highly-skilled dogs before the start of the event.
The individuals will have to survive, make camp, cook and take care of the dogs at the same time.
Shah, who applied for the competition last year as well, stood at the fifth spot among 180 participants from across the globe.
The 26-year-old is determined to make the cut this time and seeks recognition in order to represent his homeland in the cold wilderness of the Arctic. You can vote for him here.
Comments
comments