The player development programme by Pakistan Super League franchise Lahore Qalandars has become a multipurpose initiative. It is not only unearthing raw talent but also promoting tourism and bridging the gap between farfetched areas and the country's main cities.
During the third edition of their player development programme, the management of Lahore Qalandars along with the country's top stars travelled from Gilgit to Jamrud, spreading the message of national unity with cricket and proving the sport to be a powerful unifying factor in Pakistan.
This was the first time cricketers in Gilgit-Baltistan attended trials at such a large scale. Not only that, they also got the opportunity to see and meet stars like Inzamam, Yasir Shah, Shoaib Akhtar and Aaqib Javed.
"I have seen them on TV before and I'm so excited to see them in person. Thanks to Lahore Qalandars, they have brought these people to our valley," said an aspiring Qalandar Karim Ali in Gilgit, as he waited to show off his batting skills to Inzamam.
When this correspondent shared Karim's views with Qalandars chairman Fawad Rana – who is well known for his uncontrollable emotions during PSL –, he said that he is delighted his dream is coming true.
"This [presence of the country's top stars]will make these youngsters more passionate about the game which will ultimately benefit Pakistan," Rana said.
The Qalandars' boss added that the way people were eager to click photos with these players showed how hungry they were for top-level events in the region.
During their stay in Gilgit, Qalandars also visited picturesque spots including Naltar Valley, Attabad Lake and Altit Fort.
"This is a wonderful place. We need to develop tourism," said Shoaib Akhtar while visiting Naltar Valley with the Qalandars clan.
"I have come here for the first time and I believe that everyone should come and visit Pakistan's beautiful places such as Naltar," the speedster said.
Former captain Inzamam agreed with Shoaib and said there is no place as beautiful as Pakistan.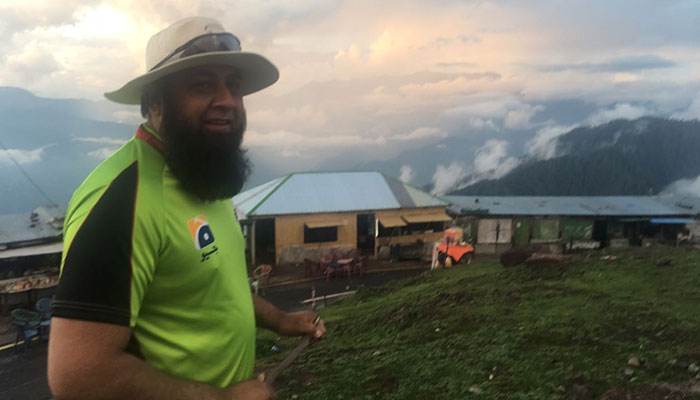 "I have been to so many places in the world, I have seen so many countries but Pakistan's sceneries are the best," Inzamam remarked during his visit to Attabad Lake in Hunza.
Qalandars CEO Atif Rana said that he took top cricketers to scenic places with an aim to promote tourism.
"It wasn't only for recreational purposes," he said. "Alongside cricket, we want to promote a positive image of Pakistan, we want to promote harmony among the people."
Qalandars picked a bowler, Mohammad Arfan, from Diamir – an area comparatively less privileged. According to Atif Rana, Arfan's inclusion in the squad shows that Qalandars are for everyone.
"Why should we limit ourselves to one region? We are here to serve Pakistan cricket and when we talk about Pakistan, then it includes each and every corner of the country," Rana insisted.
Qalandars also went to Kashmir for the second consecutive year. Last year, they had spotted fast bowler Salman Irshad from the region and that encouraged a lot more cricketers to come to the trials and apply to be Qalandars.
"I'm thankful that they have come here again. My life changed after being with Qalandars and when people saw me here, it encouraged more people to become Qalandars," Salman said.
The effort was also praised by AJK's prime minister Raja Farooq Haider, who believes that Lahore Qalandars have given a new ray of hope to cricketers from Kashmir who were earlier demoralised because of lack of opportunities at the national level.
"After emergence of Salman Irshad, cricketers here now believe they can also do something at the top level," Raja Farooq Haider said during a meeting with Qalandars in Muzaffarabad.
The squad also decided to visit Pir Chinasi in Muzaffarabad.
"I have come here for the first time and now I have realised why Kashmir is called a heaven on earth," Pakistan's spin wizard Yasir Shah commented.
While the trials in Gilgit, Muzaffarabad and Mirpur provided an opportunity to youngsters to tell the world about their talent, on the sidelines they also stressed the need of having top-level cricket in these areas.
As soon as photos from Muzaffarabad and Gilgit went viral on social media, people started asking why these grounds haven't been transformed into top cricket centres.
"Look at the surroundings of these grounds, mountains on all sides, this gives you such a picturesque view. PCB must come here and organise some events," said Qalandars director of cricket operations Aaqib Javed.
"If top cricketers come and play here in front of locals, it will motivate the local talent. Broadcasting of the tournament will also help us tell the world about beautiful cricket venues we have in Pakistan," said the former Pakistan bowler, who is also Qalandars' head coach.
After Gilgit and Kashmir, Qalandars also visited Khyber Pakhtunkhwa, including the tribal area of Jamrud.
The trials in Jamrud – an area which was once badly affected by militancy and violence – were held on the occasion of Independence Day.
The scenes at Jamrud Stadium showed how hungry the people of the area were to see live cricket action.
"This is probably the first time people are coming to witness trials," observed an excited Fawad Rana.
"It's heartwarming to see people in Jamrud cheering for a team from Lahore. This is success for our mission of national integration."
The responses to Qalandars' player development programme confirm that cricket can unite people of Pakistan. While Qalandars have used the sport to connect people, they are also using it to promote tourism. The message is clear: by promoting sports, we can also improve the economy, tourism and most importantly, national unity.