Former Supreme Court of India Judge Markandey Katju has said that India has made a 'serious mistake' to approach International Court of Justice (ICJ) against the Pakistan's military court order to execute RAW agent Kulbhushan Jadhav, reported The Indian Express.
In a Facebook post, the former judge said that it appears that Pakistan's minimal objection towards ICJ's jurisdiction is because India has given them a chance to raise Kashmir dispute on this platform. He said that Pakistan must be very happy that India went to the ICJ over a single individual's fate.
"It was a serious mistake for India to go to the ICJ on this issue, as we have played into Pakistan's hands, and given it a handle to open up many other issues," he wrote.
---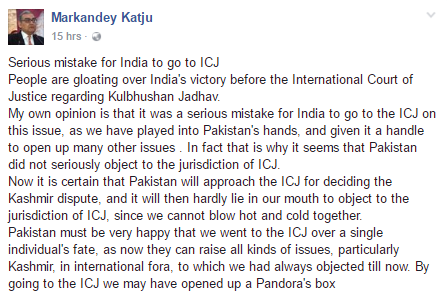 ---
Katju said by going to the ICJ, India may have opened up a Pandora's box.