MIRPUR: Kashmiris at either side of the Line of Control (LoC) and rest of the world are observing black day on Thursday against Indian occupation of Jammu & Kashmir state since October 27, 1947.
The day is observed as black day every year to mark extreme resentment and indignation over the continued unlawful and forcible occupation of the bulk of Jammu & Kashmir state by the tyrannical Indian forces.
India had landed its armed military troops in Srinagar on this day 69 years ago against the wishes of the people of Jammu & Kashmir.
Black flags will be hoisted atop the buildings at both sides of the LoC. People in Azad Jammu Kashmir and the Indian occupied Jammu Kashmir, besides wearing black bands on their arms, would also take out rallies to protest against India's continued forcible occupation of Jammu & Kashmir state.
Protest rallies and processions besides public congregations will be the hallmark of the black day in all small and major towns in Jammu & Kashmir state.
In Mirpur, a major protest rally will be followed by a procession and protest demonstration at District Courts premises at 10.00 am.
Since July 8 this year, the valley has been under a curfew. Tensions erupted after the young Kashmiri leader Burhan Wani was shot dead by Indian forces.
The death toll due to the ongoing violence in the valley has reached 111. Over 14,000 people including women and children have suffered pellet gun injuries.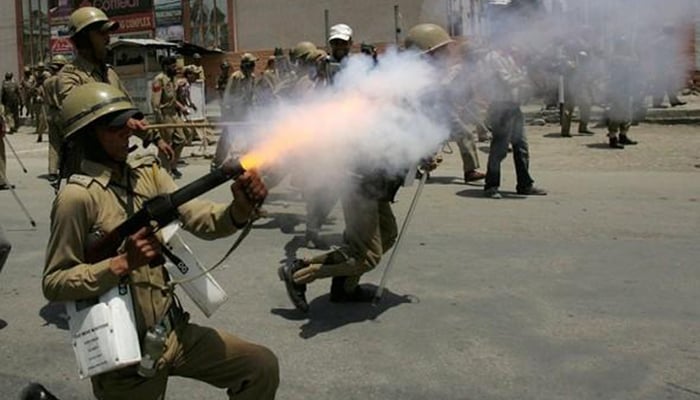 Junaid Ahmad, a 12-year-old boy, died on Saturday at a hospital in the main city of the Indian Occupied Kashmir, hours after suffering a head injury and pellet wounds. Residents said the boy was sprayed with pellets in the lawn outside his home.
Hurriyat leaders, Mirwaiz Umar Farooq, Shabbir Ahmed Shah, Yasmeen Raja, Syed Bashir Andrabi, Zafar Akbar Butt, Farooq Ahmed Tawheedi, Muhammad Musaddiq Aadil, Muhammad Shafi Reshi, Syed Saleem Gilani and Feroz Ahmed Khan in their separate statements in Srinagar termed 27th October as the blackest day in the history of Jammu and Kashmir.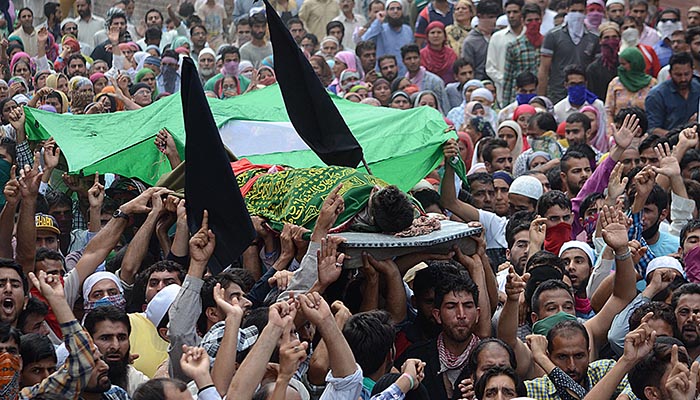 A protest demonstration was also organised by cable operators of Azad Kashmir in Muzaffarabad against Indian atrocities.
Meanwhile, Hurriyat leaders and organisations including Shabbir Ahmad Shah Jamaat-e-Islami, Dukhtaran-e-Millat, Muslim Deeni Mahaz, Muslim Political League, Pairwan-e-Walayat and Kashmir Council European Union Chairman, Ali Raza Syed in their statements condemned the terrorist attack on police training centre in Quetta and expressed solidarity with the families of the victims.
Pakistan has raised the issue of human rights violations in the occupied valley at various international forums including the United Nations, a decision that was not taken lightly by India.
In the last few months, India has resorted to unprovoked firing across the LoC inside Pakistani territory. On September 29, India claimed to have carried out 'surgical strikes' across the LoC in which two Pakistani soldiers were martyred.
Pakistan dismissed the claims of the surgical strikes. India has so far failed to provide any proof of any such strikes.