KARACHI: The international consultants, who were in the city to review arrangements for the final of Pakistan Super League, have expressed satisfaction over security plan for the match day.
While addressing a news conference in National Stadium Sunday, consultant Reg Dickason said they were briefed by officials of different security agencies, and found the arrangements for PSL 3 final up to the mark.
The arrangements are of international standard, Dickason said, adding that he would prepare a report within seven days.
The international consultants were in Karachi review the security arrangements and submit a report on it to Federation of International Cricketers' Association (FICA).
Dickason was roped in by the Pakistan Cricket Board in an attempt to regain the international community's confidence in security arrangements in Pakistan. He was also involved in security arrangements for World XI team's recent visit to Lahore.
Prior to the current visit, he came to Karachi in October 2017 to discuss security arrangements for the same match. He had also met the chief minister and inspector general of Sindh.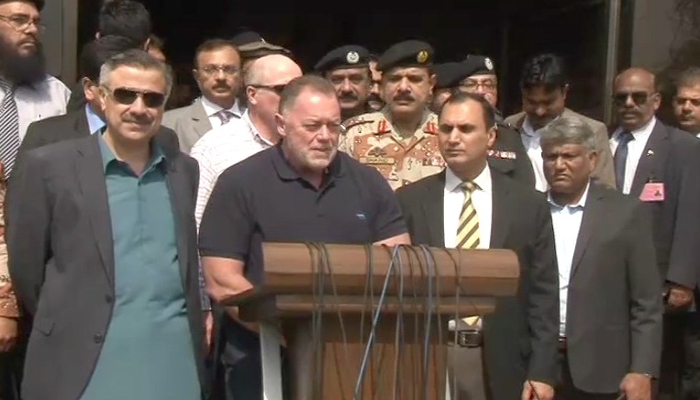 Earlier on Sunday, a full-dress rehearsal was also organised in Karachi.
Routes leading to National Stadium were closed for traffic when the rehearsal was under way. Roads leading to the match site from Civic Centre, Dalmia, Karsaz, New Town were closed, while a large number of police and Rangers personnel were deployed in and around the stadium.
"We hope the international security consultants are satisfied with our arragements," said Sindh Home Minister Suhail Anwar Siyal while speaking to the media at National Stadium where he had gone for inspection earlier in the day. "But if they have recommendations [for us], those would also be implemented."
Siyal said the Sindh government would provide foolproof security to the teams playing the PSL matches.
Moreover, fire brigade and ambulance were kept on stand-by and a bomb disposal squad was checking vehicles going inside the stadium.