India's Foreign Secretary Vijay Gokhale on Tuesday failed to answer reporters' questions after reading out a prepared statement to media confirming that Indian aircraft intruded into Pakistani airspace earlier today.

In his statement, the foreign secretary claimed that the air raid was launched on a militant camp across the Line of Control. Pakistan, however, has rejected India's claims, with military spokesman Major General Asif Ghafoor stating that Indian military aircraft violated the Line of Control as they intruded from the Muzaffarabad sector but were forced to return owing to the timely response of the Pakistan Air Force.
After reading out his statement, Indian Foreign Secretary Gokhale left the briefing refusing to answer journalists' questions over the matter.
"Indian aircraft intrusion across LoC in Muzafarabad Sector within AJK was 3-4 miles. Under forced hasty withdrawal aircraft released payload which had free fall in open area. No infrastructure got hit, no casualties. Technical details and other important information to follow," the Director General of the Inter-Services Public Relations wrote on Twitter.
Major General Asif Ghafoor also tweeted images of the "payload of hastily escaping Indian aircraft" which "fell in [the]open".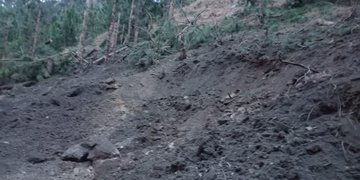 The escalation comes in the wake of a suicide bombing that killed dozens of troops in Indian-occupied Kashmir and sent tensions soaring. New Delhi had vowed retaliation after piling blame on Pakistan – accusations which the Pakistani leadership strongly refuted while offering to cooperate with India in the probe if it shared evidence.

Pakistan has asserted it had nothing to do with the attack in Pulwama, and has warned it will retaliate if attacked by India.