NEW DELHI: The docking of a Chinese submarine in Colombo on a long-range deployment patrol earlier this month is yet another indicator of the ever-increasing forays of the People's Liberation Army-Navy (PLA-N) in the Indian Ocean Region (IOR).
The PLA-N is fast transforming from a "green-water" force used to operating close to its own shores into a potent "blue-water" force, one with "long legs". Though the Indian Navy has been tracking the increased activity of Chinese warships in the IOR, including submarines quietly on the prowl in the Bay of Bengal, this is a rare instance of a PLA-N submarine openly berthing in the region that India considers its "own strategic backyard".
The diesel-electric Type 039 "Song-class" was at the Colombo International Container Terminal, which has been funded by China, from September 7 to 14. This was just ahead of Chinese President Xi Jingping's visit to Sri Lanka, which along with Maldives has shown enthusiasm for China's new Maritime Silk Route plan in the IOR.
The Chinese government, on its part, said the submarine had only made a replenishment stopover in Sri Lanka on way to the Gulf of Aden for escort and anti-piracy operations, as was the "common practice" for navies around the world.
READ ALSO: We are monitoring Chinese activity in Indian Ocean, Navy chief says
India-China face-off ends, troops pull back from Ladakh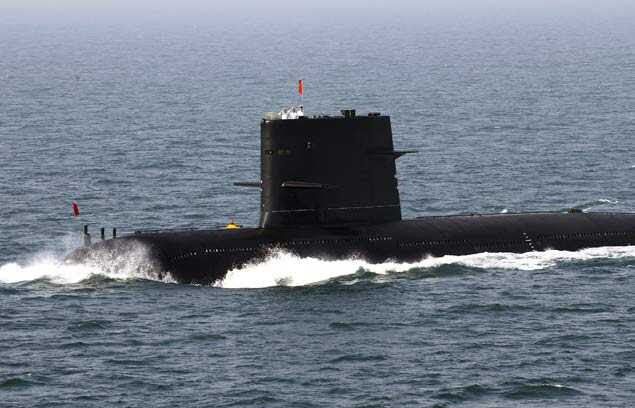 But China is also testing the new Modi government's resolve both on the land boundaries, which clearly came through during the 16-day troop faceoff at Chumar in eastern Ladakh coinciding with Xi's visit here, as well as in the IOR, as earlier reported by TOI.
China's forging of extensive maritime links with eastern Africa, Seychelles, Mauritius, Maldives, Sri Lanka, Bangladesh, Myanmar and Cambodia, among others, is primarily related to its need to protect its sea lanes for critical energy needs. But it's equally true that it's slowly but steadily amounting to a "strategic encirclement" of India.
Acknowledging that the presence of Chinese warships is on the increase in the IOR, Navy chief Admiral Robin Dhowan this week said, "We continuously monitor them, see what are their deployments, and what challenges they can pose for us…IOR is our area of operations…Our warships, submarines and aircraft are always ready to face any challenge."
That may well be true but insiders fear India's already stark military asymmetry with China only seems to be expanding all the time. India, for instance, has just 13 ageing diesel-electric submarines, only half of them operational at any given time, and a single nuclear-powered submarine, without any strategic missiles, on lease from Russia.
China, in sharp contrast, has 51 conventional and five nuclear submarines. It is also going to soon induct another five advanced JIN-class nuclear submarines equipped with the new 7,400-km JL-2 missiles.