RAWALPINDI: Chief of Air Staff (CAS) Air Chief Marshal Mujahid Anwar Khan was presented with a guard of honour upon his arrival at the General Head Quarters (GHQ) earlier today, said the Inter-Services Public Relations (ISPR).
Air Chief Marshal Sohail Aman, who retired on March 19, had pinned the new ranks on Air Marshal Mujahid Anwar Khan during a Change of Command Ceremony held on Monday.
The air chief was meeting Chief of Army Staff (COAS) General Qamar Javed Bajwa in Rawalpindi.
COAS Bajwa congratulated CAS Khan on his promotion and expressed good wishes for the newly appointed air chief.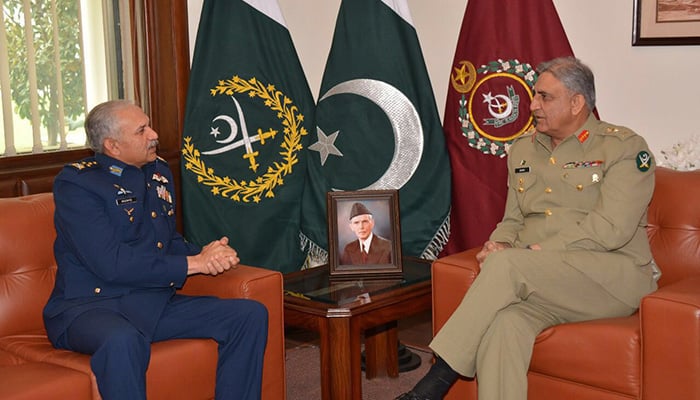 CAS Khan later laid a floral wreath at the Shuhada Monument at the GHQ.
Mujahid Anwar has become the 22nd chief of PAF after being appointed by the government.
Born on December 23, 1962, Air Marshal Khan was commissioned in GDP Branch in December 1983 and received the coveted Sword of Honour, Best Pilot Trophy and Chairman Joint Chiefs of Staff Committee Gold Medal from PAF Academy Asghar Khan.