GUJRANWALA: Nawaz Sharif started his speech by thanking the crowds gathered at the venue and said that conspiracies were being hatched against his government for the previous three and a half years.
"I want to thank you all for coming here to support me," said Nawaz.
"Prove the corruption that you say I did," said Nawaz.
He added that once again his government was not allowed to complete its tenure.
"I was the prime minister which made Pakistan an atomic power."
Referring to his earlier long march for restoration of judges, he said Gujranwala has always been lucky for him.
Replying to the crowds chants of 'Nawaz Sharif we love you', the former premier said he loves Gujranwala too.
"They only ousted me on paper, but not from the hearts of the people. Tomorrow these people would again elect me as their prime minister."
The former premier said Pakistan was developing as a nation with industries being set up, unemployment being reduced and the country was moving on a path of peace and prosperity.
But they could not tolerate this. They though if Nawaz succeeded, then PML-N would come into power next year.
Earlier on his arrival, the former prime minister was welcomed by a massive crowd of supporters in Gujranwala on Friday evening, his third day of the journey home to Lahore.
He is expected to spend the night in Gujranwala before moving towards Lahore on Saturday.
Nawaz rallies supporters to bring positive change
Addressing a massive crowd in Gujrat, Nawaz again asked for support to help him bring change to the country.
Playing to the crowd of supporters, Nawaz asked if the people had accepted the verdict against his premiership, the question received a resounding chorus from the crowd which answered in the negative.
"Have you accepted the court's decision? My appeal is in your court. Nawaz Sharif's appeal is in your court."
Reiterating his statements from his address a day earlier in Jhelum, Nawaz said the mandate of the people was torn apart when he was kicked out of office.
He added that it was a matter of respect of 200 million people and no individual could take this right from the people.
The disqualified premier also reiterated that he had not indulged in any corrupt activities.
"Why was Nawaz Sharif ousted? Someone should tell me what corruption charges I am facing. The judges are saying that Nawaz Sharif has not done corruption. The nation is asking why I was ousted?"
"Millions voted for Nawaz Sharif and a few dishonourably ousted Nawaz Sharif."
He asked till when will this 'joke' of ousting democratically elected prime ministers go on as "no prime minister has completed their tenure."
"Today, there is power in the country, the farmer's tube well is working, loadshedding is about to end in the country, prosperity is returning to the country."
The route of Nawaz's convoy was changed after he had addressed his supporters in Gujrat's Central Point.
Nawaz departed from Jhelum around 11:30am on Friday, continuing his journey to Lahore via the GT Road.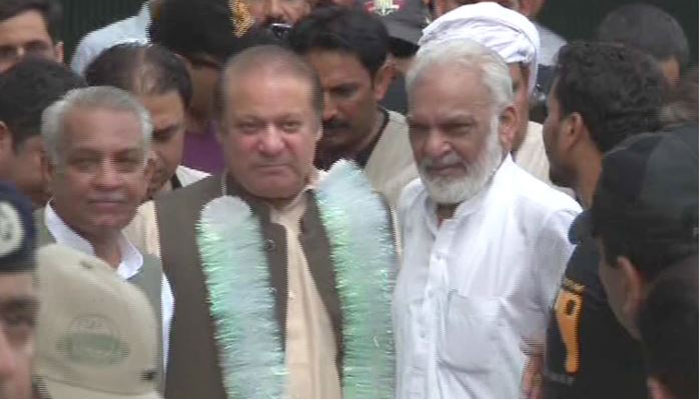 The Pakistan Muslim League-Nawaz (PML-N) supremo, on his way to Gujranwala, some 100 kilometres from Jhelum, was greeted by hordes of supporters in Sarai Alamgir, Kharian, Lala Musa and Gujrat.
Earlier, Nawaz spent the night at Tulip Hotel — located on the bank of Jhelum River — on the second day of his 'homecoming rally', following his disqualification by the Supreme Court on July 28.
Local leaders of the PML-N, along with supporters, and security staff amassed at the venue and left in Nawaz's cavalcade.
Senior party leaders Pervaiz Rasheed, Saad Rafique, Amir Muqam and Abid Sher Ali, among others, are accompanying Nawaz.
Talking to Geo News earlier, PML-N leader and state minister Talal Chaudhry confirmed that Nawaz will be spending the night in Gujranwala and heading to Lahore tomorrow.
Comments
comments