ISLAMABAD/LAHORE: The federal government has granted a No Objection Certificate to former Chief of Army Staff General (retd) Raheel Sharif to join a 39-nation military alliance of Muslim countries led by Saudi Arabia, the defence minister said Friday.
Federal Defence Minister Khawaja Asif told Geo News that Sharif was given permission to head the military alliance after due process.
Asif said the former top commander was given the NOC after approval from the Pakistan Army's General Headquarters (GHQ) in Rawalpindi.
Our correspondent in Lahore confirmed that Sharif departed for Riyadh earlier today on a special aircraft which had arrived in Lahore to receive him. Sharif was accompanied by his wife and mother on the flight.
About Geenral Raheel Shairf
Prime Minister Nawaz Sharif (no relation) won a landslide victory in 2013 and embarked on projects considered the exclusive domain of the military.
He instituted peace talks with the Pakistani Taliban, opened dialogue with separatists in Balochistan and made peace overtures to India.
He even tried to set a precedent by arraigning former army coup leader and later president, Pervez Musharraf, on charges of treason.
It was amid this civilian resurgence that he chose Gen Sharif as army chief, elevating him over two more senior officers.
But if he made the choice thinking Gen Sharif would behave like a professional soldier and accept civilian supremacy, it was not to be.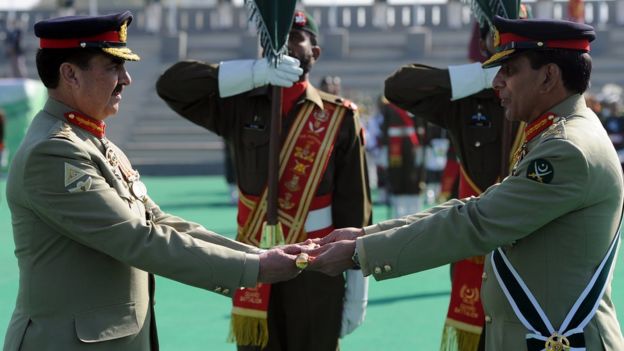 How has Pakistan changed?
Room for criticism of the military has worsened since Gen Sharif took charge, says Ayesha Siddiqa, an analyst and expert on the Pakistani army.
The country's once vibrant electronic media has stopped reporting on "sensitive" and longstanding issues such as the military's alleged patronage of selected extremist groups and their political wings.
And it has desisted from asking questions about the links between these groups and those who continue to hit targets in Pakistan. Instead, it happily buys the military's line that these attacks are planned by Indian and Afghan intelligence services to harm the China-Pakistan Economic Corridor.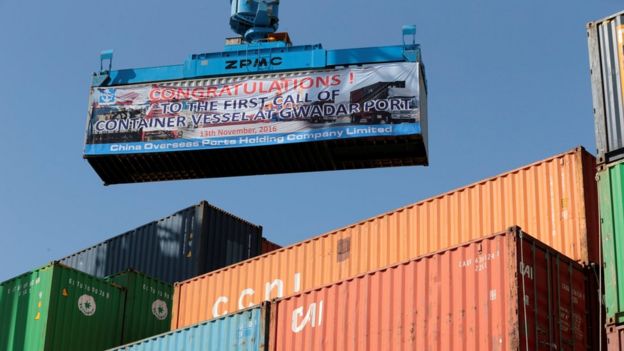 The media fell in line following a gun attack on a famous TV journalist, Hamid Mir, in March 2014. His family blamed the attack on the military intelligence service, the ISI. They said he was targeted for challenging the military's narrative about Baloch separatists.
The ISI denied the charge, but Geo TV, for which Mr Mir worked, remained off air for several weeks without any direct order from the government.
What underpins the army's power?
The army's huge financial clout means that it "is not answerable to anyone", Ms Siddiqa says. In 2007, the military's private economy was estimated at roughly $20bn, handled mostly through its welfare wings that run vast industrial, services, real estate and retail empires.
In addition, its position as a political force means it accrues the lion's share of foreign assistance that Pakistan receives. While the US post-9/11 aid pipelines are now drying up, China is providing tens of billions of dollars of assistance.
Over decades, Pakistan's civilian institutions have crumbled – arguably due to corruption and mismanagement – while those of the military have prospered.
This trajectory hasn't changed during Gen Sharif's reign.
"Under him, the military has operated outside the institutional plane, and as a result militarism in our policy has increased," Ms Siddiqa says.
In what ways has the military strengthened its role?
It is believed that the general decided to launch the military operation in Waziristan in June 2014 without a nod from political leaders in Islamabad.
The December 2014 militant attack on an army school in Peshawar further helped the military consolidate its hold on political decision making. The government formalised the military's role in law enforcement at the provincial level by giving it representation in "apex committees" created under a national action plan.
A constitutional amendment was then passed by parliament allowing terror suspects to be tried in military courts.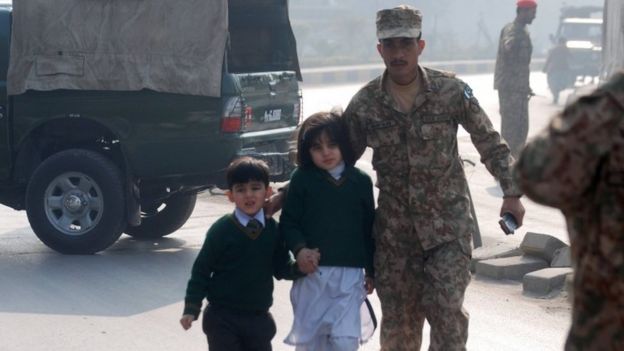 At the same time, the military's media wing, the ISPR, launched an aggressive campaign to build up Gen Sharif's political image, charting each and every move he made and making sure that he received prime coverage on TV channels.
The ISPR has since invested in producing songs, anthems and films to promote the military's image.