Meeting friends and family is part of the many traditions of the Islamic holiday of Eid-ul-Azha, and setting up the dinner table can be a challenging task.
While the mandatory Biryani and Karhai are destined to tease your taste buds this Eid, we have a few flavours that will be hard to resist.
Following are a few delicious ideas for some meaty dinners.
Goan mutton curry with spiced pilau rice
Mutton's mature flavour lends great depth and flavour to curry. Spoon the mutton onto plates with a pile of rice alongside. Serve with a spoonful of yoghurt and mango chutney.
Ingredients
For the curry
1 tsp cumin seeds
1 tsp coriander seeds
1 stick cinnamon
1kg/2lb 2oz mutton leg, boned and cut into 2.5cm/1in cubes
2 onions, finely sliced
2 garlic cloves, crushed
2.5cm/1in piece fresh root ginger, finely grated
2 long red chillies, sliced
3 tbsp tamarind paste
1 tsp mango powder (available from online retailers)
500ml/18fl oz beef stock
90g/3½oz desiccated coconut
1 x 400ml/14fl oz can coconut milk
2 tbsp fresh coriander leaves
For the pilau rice
2 tbsp vegetable oil
1 onion, finely diced
1 garlic clove, crushed
3 green cardamom pods, split
1 tsp ground coriander
1 tsp ground cumin
1 tsp turmeric
3 cloves
1 cinnamon stick
8 curry leaves
400g/14oz basmati rice
½ lemon, juice only
To serve
200g/7oz Greek-style yoghurt
200g/7oz mango chutney
Method
For the curry, heat a heavy-based frying pan until hot, add the cumin and coriander seeds and cinnamon and toast for a few seconds. Place the spices into a pestle and mortar or spice grinder and grind to a powder.
Heat a large heavy-based saucepan pan or casserole dish until hot, add the vegetable oil and the mutton and cook until golden-brown all over. Remove using a slotted spoon and set aside.
Add the onions and cook for 10 minutes, or until soft and golden-brown.
Add the garlic, ginger, chilli, toasted spices and remaining spices and cook for one minute.
Return the mutton to the pan then add the beef stock and bring to a simmer. Cover with a lid and cook over a gentle heat for one hour then remove the lid.
Add the desiccated coconut and the coconut milk and return to a simmer. Cook for another 30 minutes, or until just thickened and the meat is tender. Season, to taste, with salt and freshly ground black pepper.
For the rice, heat a saucepan until hot. Add the oil, onion, garlic and spices, and fry for two minutes.
Stir in the rice and add 600ml/1pint 1fl oz water. Bring to the boil, cover and reduce to a gentle simmer. Cook for 18-20 minutes until the rice is tender and all the liquid absorbed. Season with salt, freshly ground black pepper, lemon juice, then stir in the coriander leaves.
Spoon the mutton onto plates with a pile of rice alongside.Finish with a spoonful of yoghurt and mango chutney.
Mutton saag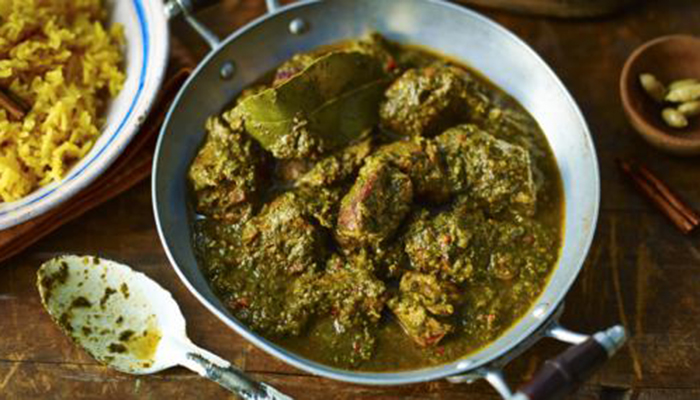 Mutton works well with big flavours and complements the iron-rich spinach in this tasty curry recipe. Serve with rice or warm naan bread.
Ingredients
5 tbsp sunflower oil
4 large onions, peeled and sliced
10 cardamom pods
1 tbsp cumin seeds
2 tsp mustard seeds
¼ cinnamon stick
6 garlic cloves, peeled and sliced
2 long red chillies, sliced
1 tbsp ground coriander
2 tsp ground turmeric
500g/1lb 2oz spinach leaves (preferably not baby spinach), stalks removed, washed and drained
900g/2lbs boneless mutton leg, cut into 4cm/1½in pieces (You may need to start off with a 1.7kg piece of mutton on the bone.)
1 tsp flaked sea salt, plus extra to taste
1 bay leaf
2 tbsp tomato purée
freshly ground black pepper
Method
Heat three tablespoons of the sunflower oil in a large heavy-based frying pan and cook the onions gently for 20 minutes, or until softened and golden-brown.
Meanwhile place the cardamom pods in a pestle and mortar and pound lightly to split the pods. Tip onto a board and open each pod, scraping the seeds back into the mortar. Add the cumin, mustard seeds and cinnamon stick and grind into a fine, dry powder.
Remove half of the onions and transfer to a plate. Return the pan to the heat and stir in chillies and garlic and cook for three minutes. Add the ground spices, ground coriander and turmeric and fry, stirring constantly, for two minutes.
Preheat the oven to 170C/325F/Gas 3.
Add 300g/10z spinach to the pan and cook for 2-3 minutes. Remove from the heat, scrape into a heatproof bowl and set aside to cool.
Return the pan to the heat and add one tablespoon of oil. Season the mutton all over with salt and freshly ground black pepper. Fry the mutton over a medium-high heat in 2-3 batches until nicely browned on all sides, adding a little more oil if necessary. As soon as one batch is browned, transfer to a medium flameproof casserole while the rest is fried.
Transfer the spiced onions and spinach to a food processor and blend to a thick green paste. Stir into the casserole dish with the lamb and add the bay leaf, tomato purée and 800ml/1⅓ pints cold water. Season with a teaspoon of sea salt flakes, stir well and bring to a simmer.
Remove from the heat and cover the surface of the curry with a piece of crumpled baking parchment. Place a lid on top of the casserole and cook in the oven for 2½-3 hours or until the mutton is very tender and the sauce is thick.
Stir in the reserved onions and the remaining spinach. Cover with the lid and return to the oven for a further 15-20 minutes or until the onions are hot and the spinach has wilted. Serve with rice or warm naan bread.
Scotch pies
Also known as mutton pies, these have a very long history. In the middle ages, they were frowned upon by the Scottish church, viewed as luxurious, decadent English-style food. In later centuries, they proved to be convenient and sustaining snacks for working people, who would buy them hot from pie-men or pie-wives in the city streets. The space on top of the pie, created by the raised crust, would sometimes be filled with gravy, beans or mashed potato.
Ingredients
For the filling
600g/1lb 5oz mutton mince
¼ tsp ground macetsp ground mace
¼ tsp nutmegtsp nutmeg
5 tbsp gravy or stock
salt and white pepper
For the hot water crust pastry
½ tsp salttsp salt
120g/4¼oz lard
360g/12½oz plain flour
1 free-range egg yolk, beaten, for glaze
Method
Preheat the oven to 200C/400F/Gas 6 and line a baking tray with baking parchment. Cut four strips of greaseproof paper, about 5cm/2in deep and 25cm/10in long, to wrap around the pies. You'll also need four pieces of cook's string to secure the paper.
For the filling, mix all the ingredients together in a bowl and season generously with salt and white pepper. Work the liquid into the meat, divide into four portions and mould into balls. Refrigerate while you make the pastry.
To make the pastry, heat 160ml/5½fl oz of water, salt and lard in a saucepan until just boiling. Meanwhile, put the flour in a mixing bowl. Pour the hot liquid onto the flour and mix together with a spoon. Once cool enough to handle, tip onto a floured surface and knead until you have a smooth dough.
Working as quickly as you can, cut off a quarter of the pastry and set aside. Divide the remaining dough into four equally sized balls. Roll out each ball to a 18cm/7in circle, about 5mm/¼in thick. Roll out the remaining pastry and cut out four circular lids, 10cm/4in in diameter.
Place a ball of filling on each large circle of pastry. Gather the pastry around the meat and bring up the sides to form the shape of a pork pie. Keep stretching the pastry so it comes above the meat by around 2cm/1¾in. Dampen the edges of the pies with water and press the lids on top of the filling. Seal the edges together using your fingers. Wrap a strip of greaseproof paper around each pie and secure with string (to make sure the pie holds its shape when cooking). This is much easier if you have someone to help you.
Put the pies on the baking tray and cut a steam hole in the centre of each. Brush with beaten egg yolk and transfer to the fridge to rest for 30 minutes. Bake for 35-40 minutes, or until golden-brown. Serve hot.
Mauritian Mutton Curry
Mutton is a wonderfully rich meat that can handle lots of chilli really well. This tastes better the next day, as all the spices harmonise and the flavours penetrate deep into the meat.
Ingredients
3 tbsp vegetable oil
1 onion, finely chopped
5 garlic cloves, finely chopped
2.5cm piece of fresh root ginger, peeled and grated
2 red bird's eye chillies, finely chopped
12 curry leaves
4 tbsp Mauritian curry powder
½ tsp fenugreek seeds
500g mutton shoulder, chopped into 2.5cm cubes
1 x 400g tin plum tomatoes
300ml water
3 tbsp freshly chopped coriander, plus extra to garnish
Salt and freshly ground white pepper
Method
Heat the oil in a large pan over a medium heat and gently fry the onion, garlic, ginger and chillies until soft. Add the curry leaves, curry powder and fenugreek seeds and continue frying for 3 minutes.
Add the mutton and cook for 15 minutes, turning frequently, until evenly browned on all sides, then add the tomatoes, water, coriander, salt and white pepper and bring to a simmer. Reduce the heat, cover and leave to simmer for 2½–3 hours, or until the mutton is tender. (Alternatively, make this dish in a pressure cooker and cook for 1½ hours.)
Taste and adjust the seasoning. Garnish with more chopped coriander and serve.
Parsi Mutton Cutlets
A fiery meat curry from Rajasthan, this one is loaded with red chillies. Mutton is cooked in mustard oil and flavoured with the local kachri spice.
Ingredients
250 gm mutton mince
1 tsp ginger paste
1 tsp garlic paste
1 green chilli, coarsely ground
1/2 tsp turmeric
1 tsp red chilli powder
1/2 tsp clove-cinnamon powder
2 Tbsp potatoes, boiled and mashed
5-6 pudina leaves, chopped coarsely
1 Tbsp chopped coriander
Salt, to taste
Bread crumbs, to coat
4 eggs, whisked (to coat the cutlets)
Oil to deep fry
Method
In a bowl take the mince and massage it with your hands for 3-4 minutes.
Now add the ginger paste, garlic paste, green chilli, turmeric, red chilli powder, clove-cinnamon powder, mashed potato, parsley, and salt. Mix it well.
Make medium sized round patties (makes around 5-6). Coat the cutlets with bread crumbs from both sides. Refrigerate for 30 minutes.
Whisk eggs. Coat the refrigerated cutlets in the egg mixture. Deep fry in hot oil till golden brown from both sides.
Serve with sliced onions and chutney. Squeeze some lemon juice on top if you want.