Facebook founder Mark Zuckerberg has apologised to European Parliament lawmakers for its role in the Cambridge Analytica scandal and for allowing fake news to proliferate on its platform.
Cambridge Analytica, which denies any wrongdoing, is accused of acquiring data from 87 million Facebook profiles for use in political campaigns.
In opening remarks, shared ahead of the hearing, Mr Zuckerberg apologised for Facebook's tools being used "for harm".
"That was a mistake," he added.
Mr Zuckerberg has been criticised for not taking enough care over how third-parties such as Cambridge Analytica access the information of Facebook users.
The social network also faces criticism for failure to tackle fake news.
Mr Zuckerberg told European Parliament's political group leaders: "It's become clear over the last couple of years that we haven't done enough to prevent the tools we've built from being used for harm as well.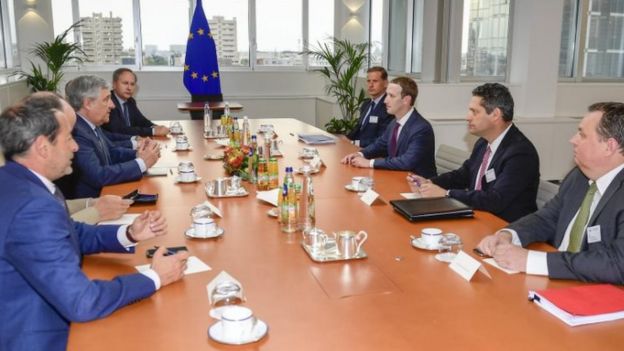 "Whether it's fake news, foreign interference in elections or developers misusing people's information, we didn't take a broad enough view of our responsibilities."
He added that the company would double the number of people working on safety to more than 20,000 by the end of the year.
"I expect this will significantly impact our profitability," he said, adding that "keeping people safe will always be more important than maximising our profits".
UK MPs are keen to question Mr Zuckerberg about the issues – but the Facebook founder has so far declined to make the trip to the UK.
In his remarks to the European Parliament, Mr Zuckerberg said that the company was "committed to Europe", with plans to employ 10,000 people across 12 European cities by the end of the year.
Despite this, Facebook has transferred 1.5 billion of its international users from the jurisdiction of its European headquarters, in Ireland, to that of its US headquarters, with some speculating this is to avoid costly legal action resulting from breaches of the EU's General Data Protection Regulation (GDPR).
The sweeping changes to data laws will give consumers much more control over how their personal details are used.
Facebook has said it intends to adopt some of the recommendations of the GDPR without copying the law.
The meeting between Mr Zuckerberg and the leaders had originally been planned to be held behind closed doors.
But that sparked a wave of criticism from parliamentarians and members of the public with German Green Party MEP Sven Giegold launching an online petition that gained thousands of signatures.
And this resulted in a U-turn, which saw the event livestreamed.