MULTAN: Prime Minister Nawaz Sharif on Tuesday inaugurated the metro bus service in Multan which will take citizens around the city for only Rs 20.
Governor Punjab Rafique Rajwana and Chief Minister Punjab Shehbaz Sharif were also present at the occasion.
The Prime Minister also took a ride in the metro following the inauguration.
The 18 kilometre long track will begin from Bahauddin Zakariya University and end at Kumharan Chowk connecting 21 stations—of which 14 are situated at flyovers while seven are located on land routes.
The project was completed at a cost of Rs 28.88 billion.
Authorities claim that in its first phase 35 buses will operate on the route providing transportation to 95000 people every day.
The metro bus project began in Multan in 2015 and it was expected to complete in a year. However financial constraints and import of equipment caused a seven-month delay. During this stretch of time citizens had to brave traffic jams and broken roads.
However, citizens now feel that the addition of the metro bus service has beautified their city, Project Director Sabir Sadozai said.
'Where is Naya Pakistan? Come to Multan'
Addressing the inauguration ceremony, Prime Minister Nawaz Sharif said the metro bus project is a gift to the people of Multan.
"We are not here for any political rally, we are here to give you your rights," the Prime Minister said, to a loud applause from the audience.
Taking aim at his opponents, the Prime Minister asked, "Where is 'Naya Pakistan'?"
"Come to Multan if you want to see 'Naya Pakistan'", he said, adding that no one had thought of initiating the metro project in Multan before.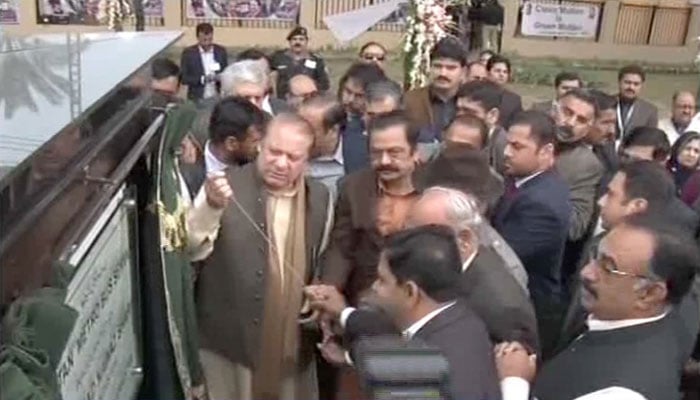 The Prime Minister pointed out the Multan metro project had been completed in just 1.5 years by Chief Minister Punjab Shehbaz Sharif.
He added that the motorway would also come soon to Multan.
The Prime Minister said the Hyderabad- Karachi motorway would be completed this year, and a six-lane motorway from Peshawar to Karachi would also be built soon.
'Dharnas delayed development projects'
Addressing the inauguration ceremony, Punjab Chief Minister Shehbaz Sharif emphasised the need for proper road infrastructure in the progress of a nation and said the Prime Minister has laid the foundation stone for development in all four provinces.
"The Multan Metro project is better than the Lahore and Islamabad projects in terms of quality," the Chief Minister noted.
He said the federal government has released funds for Karachi's Green Line project as well.
Alluding to the opposition, Shehbaz Sharif said the 'dharnas' had delayed the completion of several development projects.
"These dharna people want to ruin Pakistan's destiny," he lamented, adding that Pakistan remains on course to achieve progress and the enemies' plots have failed.