RAWALPINDI: Chief of Army Staff, General Qamar Javed Bajwa on Wednesday witnessed the training launch of short range surface to surface ballistic missile 'Nasr' and said that the weapon has put "cold water on cold start" doctrine, ARY News reported.
According to ISPR, the army has successfully undertaken a series of training launches and tests, trials during the current week for validation of new technical parametes of 'NASR' with enhanced range from 60 kilometers to 70 kilometers and fight maneuverability.
Speaking on the occasion, the COAS remarked that Nasr has put cold water on cold start.
"War mus be avoided at all costs but our strategic capability is a guarantee of peace against a highly militarised and increasingly belligerent neighbour," said the COAS.
The COAS added that Pakistan will go to any length to ensure regional peace and stability. We wholeheartedly support all government efforts at peace through dialogue.
"Our capability is only meant to ensure, no one thinks war remains an option," said the COAS.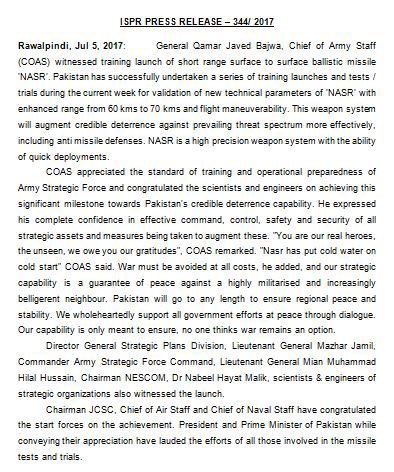 The COAS also appreciated standard of training and operational preparedness of Army Strategic Force and congratulated the scientists and engineers on achieving this significant milestone towards Pakistan's credible deterrence capability.
"You are our real heroes, the unseen, we owe you our gratitudes", COAS remarked.
Director General Strategic Plans Division, Lieutenant General Mazhar Jamil, Commander Army Strategic Force Command, Lieutenant General Mian Muhammad Hilal Hussain, Chairman NESCOM, Dr Nabeel Hayat Malik, scientists & engineers of strategic organizations also witnessed the launch.
Chairman JCSC, Chief of Air Staff and Chief of Naval Staff have congratulated the strategic forces on the achievement. President and Prime Minister of Pakistan while conveying their appreciation have lauded the efforts of all those involved in the missile tests and trials.