My dreams were plagued with images of Chipotle and Torchy's Tacos. It was always the same thing in the dream. I enter, order my staple crunchy beef taco and settle down to take a massive bite. I feel my mouth salivate and chomp down onto….nothing but my tear stained pillow.
I sobbed silently to myself as I wondered why my favourite Mexican dish had not made its way to The City Of Lights.
But those are days of the past now. A brave new future has emerged filling Karachi with foodies, travelled gourmands and daring chefs! Our prayers have been answered.
I'm here to present you with not two, not three but four Taco places to fill the Taco Bell shaped void in my heart.
Taco Bout
From this little new joint on Bukhari Commercial, we tried the Chicken Taco, Philly Cheese Steak Taco and Grilled Beef with Glazed Onion Taco and let me just tell you, there's a lot to talk about!
Let's start with their strengths — The home-made cheese was superb, it had a thick gooey consistency with a kick of spice. They should bottle the stuff. Something that tasted like it was out of a bottle though was the guacamole. It had so many different flavours running through it that totally overpowered the essence of guacamole, which is supposed to be avocado! It was watery with too much lime and quite a let down.
One thing which really impressed us was that the tacos all held together really well. They weren't dry at all and stayed in one piece despite the few minutes of travel time it took to bring it home.
The shell however was not crunchy like promised, and that is a cardinal sin in my books when it comes to tacos. The salsa was stale as well and, considering it took 40 mins to prepare our six items, I'd at least expect freshly made components.
The beef and chicken were juicy and well done, albeit a little desi in flavour.
Rating: ★ ★ ☆ ☆ ☆
Price: Each taco cost Rs. 350.
Loco
Although not a traditional classic taco, the crispy seaweed taco with tuna needs to be mentioned.
The fresher than fresh tuna, coupled with the heaping helping of avocado and wasabi, creates a little mountain of flavour atop a salty crunchy seaweed cracker. The result is messy, dripping, perfect bites of yum.
Pro tip: Pop the whole thing in your mouth in one-go to truly experience the flavours together in a symphony of culinary excellence that I believe can compete on an international level. I cannot emphasize enough of the quality of tuna they use. It's a gastronomic adventure from start to finish and Loco's seafood never disappoints. Definitely without a doubt my favourite 'tacos' in Karachi.
Rating: ★ ★ ★ ★ ★
Price: One serving cost Rs. 850.
House Of Puns
Next up is a take-away place (soon to be a food-truck) called House of Puns which does a variety of tacos, burritos and burrito bowls.
The taco comes deconstructed which allows you to add as much of whichever component you want. This also kept everything from getting too soggy and really allowed me to taste and appreciate each part separately before putting it together. They come with a choice of shredded chicken or beef mince.
I really enjoyed the fact that both the protein options were simple instead of an explosion of flavour and spice which would have made it too 'desi' as well as taken away from the other elements of the taco. The cheese was high quality and did not disappoint.
Avocados are a tricky, evil fruit when not handled correctly, turning on you like a cheating ex-boyfriend without any warning! In the right hands, however, avocados can be a delicious potassium and vitamin-packed addition to any meal.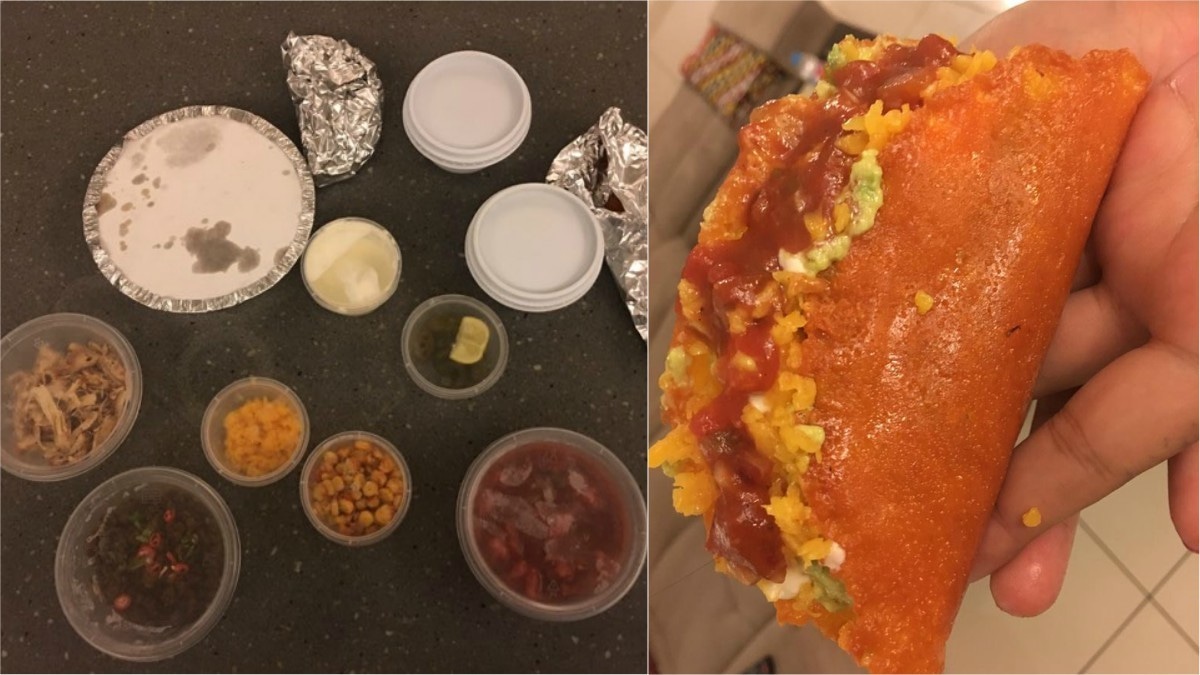 Taste is subjective but to me, guacamole has always been the champion component of tacos. I tried a spoon of House Of Puns gauc and boom – instant foodgasm. My family had to pry the divine dip out of my grip to actually get some to add to their own tacos. The guacamole was super duper fresh, creamy with just the right amount of citrus overtones.
The salsa was also fresh and a nice constituency although a bit on the sweet side. The sour cream and jalapeños were great but the corn had too much going on and maybe needed to be a little simpler. Now onto the shell. We ordered the cheese shell, which was made from scratch following the ketogenic recipe.
Cheese being my drug of choice, I fell in love with it. I thought it was a great spin on the regular taco and added a fun and super yum element to the dish. My family members were not so keen on the heavy cheese shell and said it gave the taco an oily, Pakistani touch which took away from the flavourful and well made taco-filling. There is a regular taco shell on their menu as well for those who cannot keep up with us cheese junkies.
Rating: ★ ★ ★ ★ ☆
Price: Each taco cost Rs. 350.
Taco El Paso
Located at the food court in Ocean Mall, Taco El Paso has been around before any other place on the list. From the looks of their menu, which includes everything from Dum Keema to Crunch Wraps, it seemed to be a very desi take on Mexican cuisine, which is why I never tried it before.
They are the lowest priced taco on the list and expectedly, you get what you pay for. There was no gauc and for a while I debated even including this one because a taco without gauc cannot really be considered a taco in my opinion.
The salsa was red pepper sauce and the shell was stale. The cheese tasted like processed cheese slices. The beef was a total disaster with chunks so big that they should rename the dish Taco with Meatballs.
Rating: ★ ☆ ☆ ☆ ☆
Price: Each taco cost Rs. 200.