The United Nations Refugee Agency (UNHCR) has offered to help Malaysia handle a migrant crisis that has left thousands stranded at sea.
It said it was ready to provide medical and other aid as well as processing help, after Malaysia blockaded its sea border to stop more migrants arriving.
Thailand and Indonesia are also refusing to accept the migrants.
The impoverished Bangladeshis, and Rohingya Muslims fleeing persecution in Myanmar, have spent weeks at sea.
Malaysia has already hosted more than 45,000 Rohingyas over the years, according to the UN, but now says it cannot accept any more.
The UNHCR, which is already involved in documenting the Rohingya migrants that have landed in Indonesia, said it was deeply concerned that boats had been pushed away.
The refugee agency's Malaysia spokesperson said in a statement on Monday that the UNHCR was ready to help conduct interviews to determine which of the migrants were in need of protection.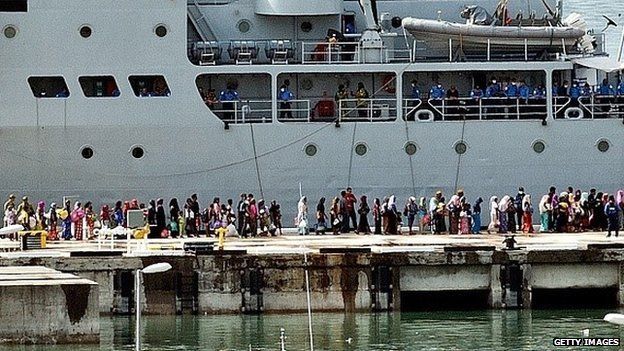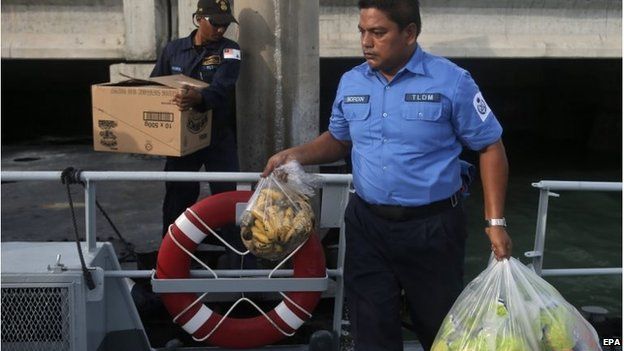 "UNHCR's concern is for the relatively small number of Rohingyas from Myanmar in the group, who are likely to need international protection and cannot be returned to Myanmar," the statement said.
The Malaysian government has not formally asked for help, the UNHCR clarified.
Malaysian officials said last week that about 1,018 Bangladeshi and Rohingya refugees had landed illegally on Langkawi island, apparently abandoned by people smugglers who were transporting them to Thailand. It is now holding them in detention centres.
Malaysia is the destination of choice for the migrants as it is a Muslim country and is short of unskilled labourers.
At least 700 migrants were rescued off Aceh, Indonesia last week by locals, bringing the numbers in camps there to at least 1,500.
Officials from the countries in the region – Indonesia and Thailand, as well as Malaysia – have supplied some boats with food and water but have then towed them out of their own territory.
People on the boats are believed to be severely malnourished. Survivors who have made it to shore say there have been deadly fights on board over food.
Hardline stance on new 'boat people'
Asean media troubled over treatment of migrants
Rohingya migrants have been fleeing Myanmar for decades via Thailand but the crisis has intensified because there has been a crackdown on people smugglers by the Thai authorities, meaning the migrants are being abandoned on boats, or held hostage on them while the smugglers try and extort money from the migrants' relatives while at sea, rather than in Thai camps as had traditionally happened.
UNHCR said the humanitarian crisis required a "comprehensive regional response" but Myanmar is refusing to attend any regional meetings on the issue.

Why has this crisis erupted?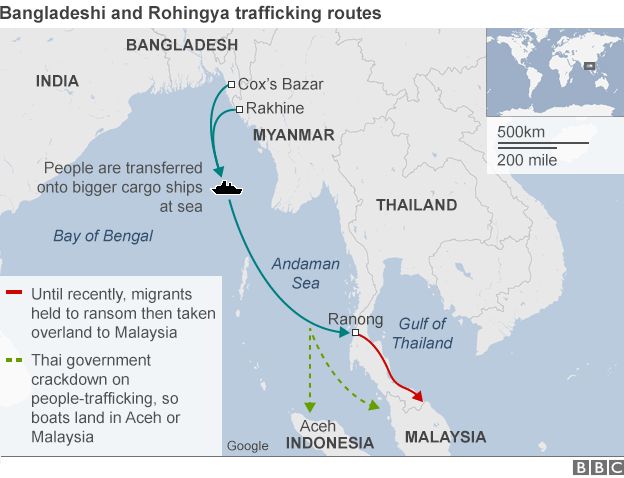 Rohingya Muslims mainly live in Myanmar – largely in Rakhine state – where they are not considered citizens and have faced decades of persecution.
Rights groups say migrants feel they have "no choice" but to leave, paying people smugglers to help them. The UN estimates more than 120,000 Rohingyas have fled in the past three years.
Traffickers usually take the migrants by sea to Thailand then overland to Malaysia, often holding them hostage until their relatives pay ransoms.
But Thailand recently began cracking down on the migrant routes, meaning traffickers are using sea routes instead, often abandoning their passengers en route.