(Web Desk) – Euromonitor International, a research group has predicted that Pakistan's growing youth and their freewheeling attitude towards rising incomes has turned the country into the world's fastest growing retail market.
According to Bloomberg, the researchers have predicted that the market will expand to 8.2 percent per annum through 2016 – 2021 since disposable income has doubled since 2010.
The size of the middle class in Pakistan is most likely to surpass U.K. and Italy's forecast period.
Jinnah Institute, an Islamabad-based think tank has estimated that almost two-thirds of the nation's 207.8million people are aged below 30 years.
The country's improving security environment, economic expansion of nearly 5 per cent and cheap consumer prices are motivating buyers to spend more.
---
Pakistan forecasts as the fastest growing country in the retail markets. Photo: Bloomberg/Euromonitor International
---
"We have a new millennial shopper at hand. They don't mind spending to have the kind of lifestyle they would like," said Shabori Das, senior research analyst at Euromonitor.
"It's not like the Baby Boomer generation where savings for the future generation was important."
Pakistan is retaining the consumerism through the increase market based businesses unlike the in U.S. – where stores are closing at a record pace as e-commerce weakens the stability of sustaining shop-based shopping.
---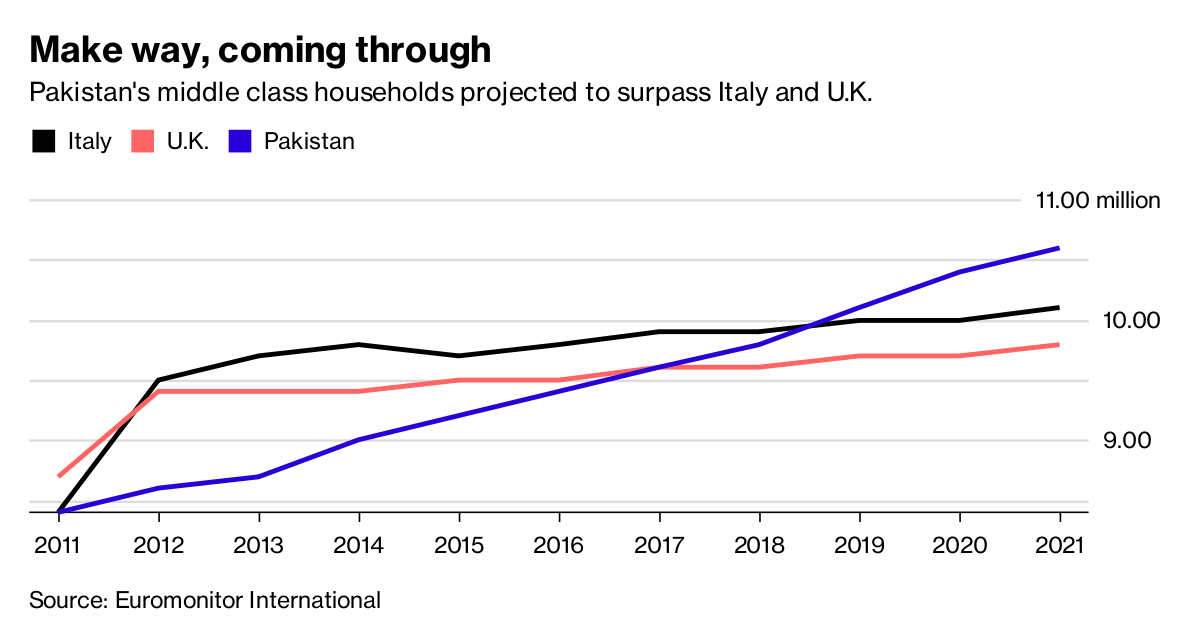 The research conducted by Euromonitor predicts Pakistan s middle class will surpass U.K. and Italy. Photo: Bloomberg/ Euromonitor International
---
This has attracted foreign operators and investors in Pakistan such as Turkish home applicance makers Arcelik AS and Dutch dairy giant Royal FrieslandCampina NV which has entered the market in 2016. Automation corporations, such as Hyundai Motor Co., KIA Motors Corp. and Renault SA are building plants in Pakistan.
The retail businesses in Pakistan are expected by 2021 to be increased by 50 per cent to 1 million outlets, according to Euromonitor. Its three biggest malls, Lucky One in Karachi, Packages Mall and Emporium Mall opened in Lahore in the past two years.
Pakistan is mirroring what India went through about four years ago. Das said both countries have young populations with more income and less inclination toward saving which is a distinct difference to what retailers elsewhere are dealing with.